National Doughnut Day 2012 Today
National Doughnut Day 2012 has arrived on Friday, June 1, and bakeries across the U.S. are celebrating.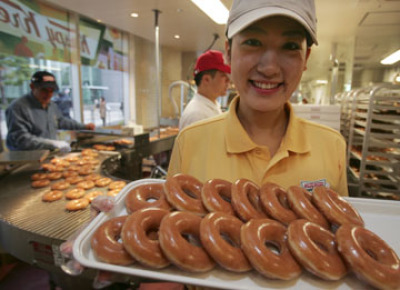 The holiday originated as a fundraiser for the Salvation Army, which took place on the first Friday in June for the last 74 years.
This year, the Salvation Army is teaming up with baking company Entenmann's in celebrating National Doughnut Day. Entenmann's will donate proceeds from sales and offer customers a chance to win free donuts for a year by entering a contest on its Facebook page. Entenmann's baked goods are sold at grocery stores.
While the special fried dough confectionery is spelled both doughnut and donut, there is no dispute about its popularity. The sweet snack is prepared in various forms that include many flavors and toppings. Donuts can be iced, filled, and often come complete with sprinkles, in addition to many other toppings.
Donut varieties are also divided into cake and various risen type doughnuts, and include shapes such as rings, balls, flattened spheres, and twists, among others.
At Dunkin' Donuts, customers may receive one free doughnut with a purchase of a beverage. The offer will last all day Friday until supplies last.
On Twitter Friday, Dunkin' Donuts became a trending topic as National Doughnut Day swept the internet and Dunkin fans expressed their excitement.
"Oooo def goin to Dunkin Donuts and get me one of them maple joints #bomb," wrote Slim.
"Apparently it's national free Donut Day at Dunkin Donuts," wrote Ariel. "That is of course if you buy a drink WHICH I DID. FREE DONUT YA'LL."
Additionally on National Doughnut Day, world-famous Krispy Kreme donut chains are offering customers free treats, no purchase necessary. The franchise is celebrating its 75th year in business this year.
Along with Dunkin' Donuts, Krispy Kreme also became a trending topic of Twitter Friday.
"Happy National Doughnut Day," wrote Zoey. "I'm going to Krispy Kreme for my free doughnut… Free tastes better than anything else #happy"
Angela wrote, "FREE DONUT DAY! Obviously I'm hitting up Krispy Kreme to cash in on my Friday freebie and you should do the same."
"National Doughnut Day," asked Twiz. "Guess I might need to get some Krispy Kreme action today. lol"
Twitter user Sweetie wondered which donut vendor to visit on National Doughnut Day, writing, "It's free doughnut day!!!! Dunkin donuts or krispy creme???? Hmmmm."
Dunkin' Donuts and Krispy Kreme are not the only stores celebrating National Doughnut Day 2012. Numerous smaller donut vendors across the nation are also celebrating by offering free treats.
75th National Doughnut Day (VIDEO)