NCAA March Madness 2018 Livestream: UCLA Bruins, St. Bonaventure Bonnies Will Battle to Stay in the Tournament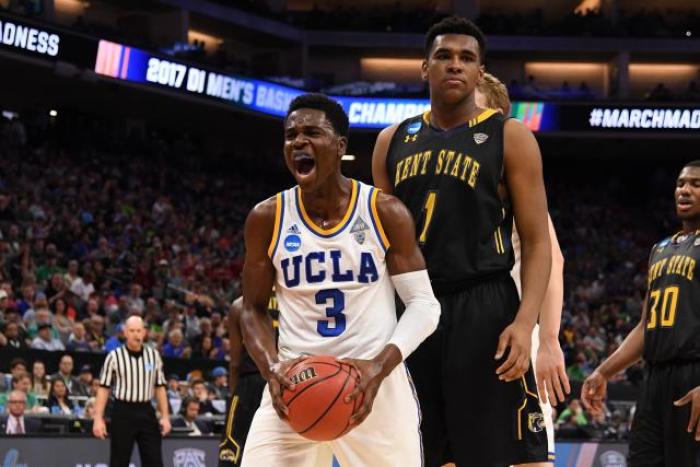 March Madness is about to begin, and this year's tournament will kick off with eight teams taking part in the First Four portion of the proceedings.
One of the matchups in the opening stage of this year's tournament will feature the UCLA Bruins going up against the St. Bonaventure Bonnies.
Fans who will not be able to go to the UD Arena in Dayton, Ohio, to watch the games in person can tune in from home via truTV.
Alternatively, fans who want to livestream the game on March 13 can head on over to March Madness Live.
The UCLA-St. Bonaventure matchup presents quite a bit of intrigue.
On one side, the Bruins will be relying on junior Aaron Holiday to once again take on the bulk of the scoring and playmaking duties for the team. He has been doing the heavy lifting for the team all year, averaging more than 20 points and nearly six assists per contest.
The Bonnies are going to put up a good fight, however, and so Holiday will need some help from forward Kris Wilkes and center Thomas Welsh to put up enough points to keep their opponents at bay.
As for the Bonnies, they also have some high-scoring backcourt players too.
Senior Jaylen Adams is going to be the one tasked with going toe-to-toe with Holiday. Like Holiday, Adams is currently projected to be one of the players selected in the upcoming NBA Draft and the two of them could be getting ready to put on a show.
Notably, Adams will not have to do it alone for the Bonnies to win since he will be getting help from fellow scoring guard Matt Mobley.
CBS Sports' Colin Ward-Henninger recently noted that Adams and Mobley were the reasons why the Bonnies are perceived to have one of the best backcourts in the country, and the two will need to do their part for the team to stay alive in the tournament.
More news about the 2018 NCAA March Madness tournament should be made available soon.