Neurosurgeon Ben Carson's Politically Incorrect Speech at Prayer Breakfast a YouTube Sensation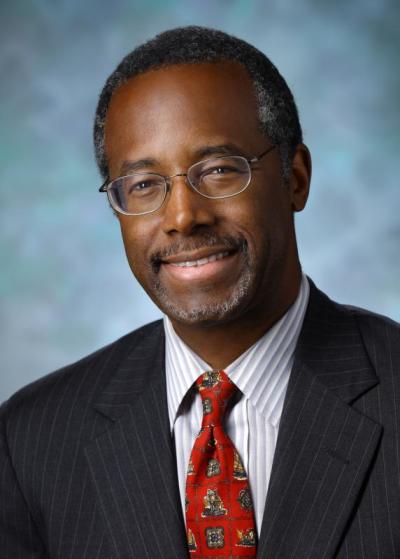 Dr. Benjamin Carson, Gifted Hands author and director of pediatric neurosurgery at Johns Hopkins Hospital in Baltimore, Md., brought an audience of dignitaries, including President Barack Obama and first lady Michelle, to their feet last Thursday after dishing a speech packed with parables, wit, biblical scriptures and punch at the National Prayer Breakfast in Washington, D.C. Now, it's resounding with everyday Americans, too.
The doctor's 25-minute speech displayed a "logical" and "common-sense" approach to issues like freedom of speech, education, taxation, the national debt and spirituality, and has already captured more than a million hits on YouTube and elicited headlines and calls like the Wall Street Journal's "Ben Carson for President."
"Smart man! Put him in the White House," agreed Mary Ledet on Monday in her comments posted on the video of Carson's speech, which was uploaded to YouTube on Thursday.
"LOL! I absolutely love how Ms. Obama was applauding at the end of the speech. I really don't think she realized how much of what Dr. Carson said was in direct CONFLICT of everything her husband is doing to this country," noted another commenter under the screen identified as 4stripguy. "I actually think she enjoyed and even agreed with much of what Dr. Carson said for if one does not, one wouldn't applaud as hard…" the commenter continued.
Faith-based groups like the Pennsylvania Pastors' Network also gave Carson's remarks their blessings on Monday.
"Dr. Carson verbalized sentiments felt but rarely voiced by a strong majority of American Christians who are committed to living according to the commands of scripture," said Sam Rohrer, president of the Pennsylvania Pastors' Network, in a statement. "Tenets like personal responsibility, moral uprightness, and fiscal restraint are not just smart politics; they are also biblically and constitutionally sound and the basis for America's success since its inception," he noted.
At the top of his presentation, Carson explained: "Now it's not my intention to offend anyone. I have discovered however, in very recent years, it's very difficult to speak to a large group of people these days and not offend someone. You know, people walking around with their feelings on their shoulders waiting for you to say something, 'Aghhh(animated) did you hear that?' And they can't hear anything else you say, the pc (politically correct) police are out in force at all times."
But if the politically correct police were in the room that morning, nobody noticed as Carson kept them under his spell with wit, humor and candor as he talked about how he created success from a recipe of faith, childhood poverty and education.
"I'm very, very compassionate and I am not ever out to offend anyone but pc (political correctness) is dangerous. Because you see this country, one of the founding principles was freedom of thought and freedom of expression and it muffles people. It puts a muzzle on them and at the same time, keeps people from discussing important issues while the fabric of this society is being changed," said Carson. "…We cannot fall for that trick and what we need to do is start talking about things; talking about things that are important; things that were important in the development of our nation," he added.
Lamenting the state of America's education system, Carson noted that it was time for the "intellectual superstars" in the nation's schools to get more support and encouragement and pointed out that as a man of solutions he had already devised one along with his wife, to encourage smart students through the Carson Scholars Fund. Explaining that he had nothing against athletics or other pursuits in school he noted to an applauding audience: "… What will maintain our position in the world? The ability to shoot a 25-foot jump shot, or the ability to solve a quadratic equation? We need to put the things into proper perspective."
Highlighting the exploding national debt, he told the audience that it was also a big problem.
"…$16 and a half trillion, you think that's not a lot of money? Tell you what, count one number per second which you can't do because by the time you get to a thousand it would take you longer than a second but one number per second, you know how long it would take you to reach 16 trillion? 507,000 years, more than a half million years to get there. We have to deal with this," said Carson.
In an interview with Fox News' Sean Hannity on Friday, Dr. Carson talked about the reaction to his speech.
"The reaction has been overwhelming. We've been just deluged with e-mails, with calls, 99.5 percent positive and that doesn't surprise me because the way that I laid things out was really logical. It wasn't right-wing, it wasn't left-wing, it was just logic and common-sense. I think this is what people are starving for coming out of Washington D.C. I don't know where we left our brains," said the world famous brain surgeon.Carson's latest book, America the Beautiful, tackles a number of the issues raised in his National Prayer Breakfast presentation.
Dr. Benjamin Carson's Amazing Speech at the National Prayer Breakfast with Obama Present