New 'Dragon Age: Inquisition' DLC Features Subterranean Gameplay (VIDEO)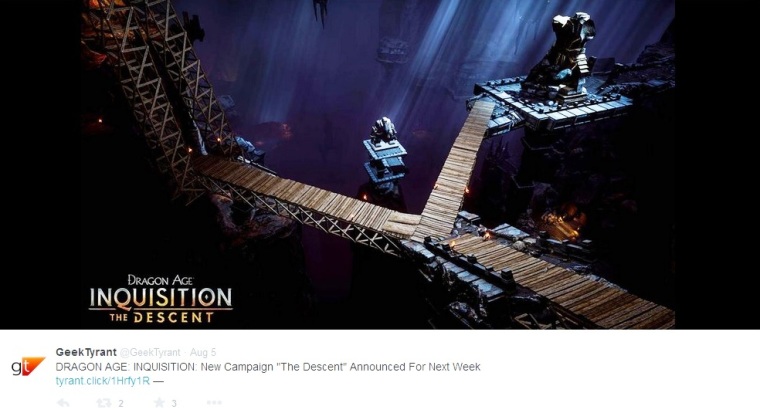 The upcoming "Dragon Age: Inquisition" DLC will take players deep underground into the Deep Roads.
Bioware and Electronic Arts recently announced Wednesday they will be releasing new downloadable content next week featuring a subterranean adventure entitled, "The Descent."
The single-player DLC for the action role-playing sequel to "Dragon Age: Origins" and "Dragon Age II," "The Descent," will take players into a journey down to the once inhabited Deep Roads after earthquakes threaten the lives of everyone above in Thedas.
Players will investigate below the surface and map out an environment filled entirely with interconnected underground caverns to find out what may be causing the large earth tremors affecting everyone above ground.
Players will explore the caves, previously used by the dwarves in "Dragon Age," to discover if darkspawn and other creatures may be responsible for the earthquakes occurring in Thedas.
"The Descent" will be launched across all platforms on the same day, to avoid players feeling left out, as was the issue with the game's first DLC, "Jaws of Hakkon," released in earlier this year in March for Xbox One players, leaving other console users behind for two months before it was made available for PS 3, PS 4 and Xbox 360 in May.
According to the game's executive producer Mark Darrah, who answered fan questions on his Twitter account, "The Descent" will not be "Dragon Age: Inquisition's" last story based-DLC, revealing Bioware is far from finished with churning out more content.
With the prospect of more downloadable content down the line, players who have finished the game's main campaign will have more incentives to continue playing with new story-packed campaigns fleshing out the "Dragon Age: Inquisition" universe.
"The Descent" is scheduled for release on Aug. 11 for PC, PlayStation 4, and Xbox One.