New Roma Downey Film Documents Horrors Faced by Christians in Middle East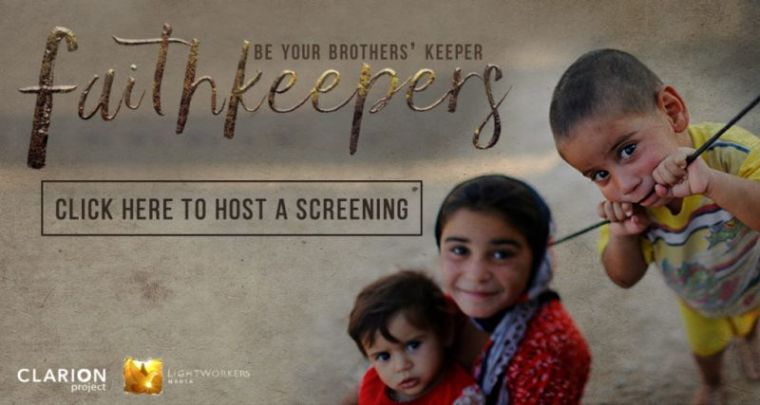 A new film produced by Roma Downey highlights at least a dozen first-hand accounts of how Christians are being brutally killed, raped, beaten and imprisoned for their faith in the birthplace of Christianity.
On May 23, the film "Faithkeepers" will be screened by churches nationwide in hopes that it will increase awareness among American Christians about the reality of what is happening to their brothers and sisters in the Middle East.
The film details the level of persecution that Christians in nations like Iraq, Syria, Egypt and Iran are facing. Although the film's release comes long after the Islamic State terrorist group took over swaths of territory in the summer of 2014 and began committing genocide against Christians and other religious minorities in Iraq and Syria, producer Paula Kweskin told The Christian Post on Tuesday that the filmmaking process began before IS (also known as ISIS, ISIL or Daesh) rose to prominence.
"We started to research and were planning to talk about how Christians in Iraq, Syria, Lebanon, Egypt, Iran are struggling all the time and then in the midst of production, all of sudden, things got worse. I mean, much, much worse," Kweskin, who is also a human rights lawyer with background in international law, explained. "Eventually, what was happening to Christians over the last few years because of ISIS can be called a genocide. We certainly never expected for things to get as bad as they did."
Kweskin told CP that the film features at least a dozen Christians from the Middle East detailing their families' own stories of persecution. Additionally, the film features remarks from leading religious freedom advocates, such as former United States Congressman Frank Wolf, and experts such as Juliana Taimoorazy, founder of the Iraqi Christian Relief Council.
"When we first started interviewing folks, especially in Iraq and Syria, we were asking them to tell us about the recent violence. They said, 'I can tell you about this recent violence but I am going to have to tell you about how my parents were persecuted and my grandparents and my great grandparents and my great, great grandparents,'" Kweskin said. "It's a lineage and heritage of persecution. I think it is almost miraculous that there are any Christians left in the Middle East."
She added that it is "incumbent" on Christians in the West to "ensure that this ancient Christian community does not go extinct."
"Our children will be saying to us, 'Where were you? Why did you let this happen on your watch?'" 
Kweskin recalled the story of one Iraqi women interviewed for the film.
"She was kidnapped, raped and tortured and her kidnappers wanted her to convert to Islam, which she refused to do. I think that is amazing, just the fact that she had such strength in her faith," she stated. "Then, her husband is killed in front of her eyes. She escaped to Syria from Iraq. Just the torture and pain that she endured, you just think, how can so much happen to one community, to one person?"
Kweskin told CP that she hopes the film serves as some sort of wake-up call to the American church.
"We have spoken to the persecuted in the Middle East and they ask us, 'Where are our brothers and sisters?'" she said. "I think that it is a lack of education and a lack of understanding. I really just hope that this is a key to getting folks the education they need and really connecting them."
"Our tagline is 'Be your brother's keeper.' I really do hope that this inspires people to feel that their brothers and sisters are being persecuted and that they need to stand up and take action."
The film's website offers three ways that Christians in America and across the world can help persecuted Christians in the Middle East, which Kweskin referred to as the "three A's" — awareness, advocacy and aid.
"Awareness is bringing the film to your church or community, posting a trailer on Facebook, telling friends and family about it, getting on social media," she explained. "Advocacy is getting in touch with your congressman and elected official and telling them that you care about this."
As for aid, "The Faithkeepers Fund" has been established in which the proceeds will be divided up among different vetted organizations that serve the persecuted communities in the Middle East. Online donations can be made through the film's webpage.
Kweskin told CP that dozens of church across the country have already signed up to screen the film. More information on how to host a screening or where screenings will be held is available by clicking here.