New York Church Hosting Free, 'Restaurant-Style' Thanksgiving Dinner; Event to Feed 1,000 People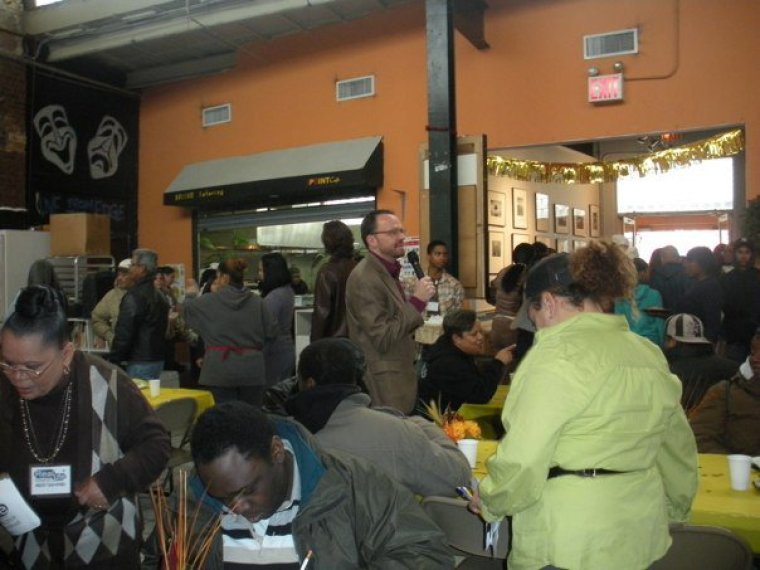 A New York church is gearing up for it's fifth annual Thanksgiving dinner, which is expected to feed 1,000 people.
Pastor Reggie Stutzman of the Real Life Church in New York City, will lead 120 volunteers in hosting a restaurant-style Thanksgiving dinner in Hunts Point, Bronx next week.
Guests will be treated to a "full turkey dinner" as well as musical entertainment. They will then be free to take home a variety of donated supplies, including used clothing and toiletries, and the event is entirely free.
"It's our fifth year and we do it every year at a place in Hunts Point called The Point (a community development center). In the last four years we've fed around 3,000 people. We get [the food] from The Bowery Mission," Stutzman told The Christian Post. "So it's a full turkey dinner with all the trimmings and then free clothes and free toiletries."
Guests, who Stutzman described as being a "good mix of people," are free to walk in on Thanksgiving between 11 a.m. and 4 p.m. They will then be seated and served without the hassle of long lines.
"It's all waiter-style, I don't want any numbers or any lines. I want people to be treated as they would in a restaurant," he said. "We'll have some volunteers that actually plate the food and then others that will waiter it out and wait on people. Other people are cutting pieces of pie and putting it on plates … and then clean up and so forth so it's a beautiful day."
This year Stutzman, who began hosting the free Thanksgiving dinner in 2010, worked closely with World Vision and other organizations that assisted in making it all possible. The event has become the church's signature outreach.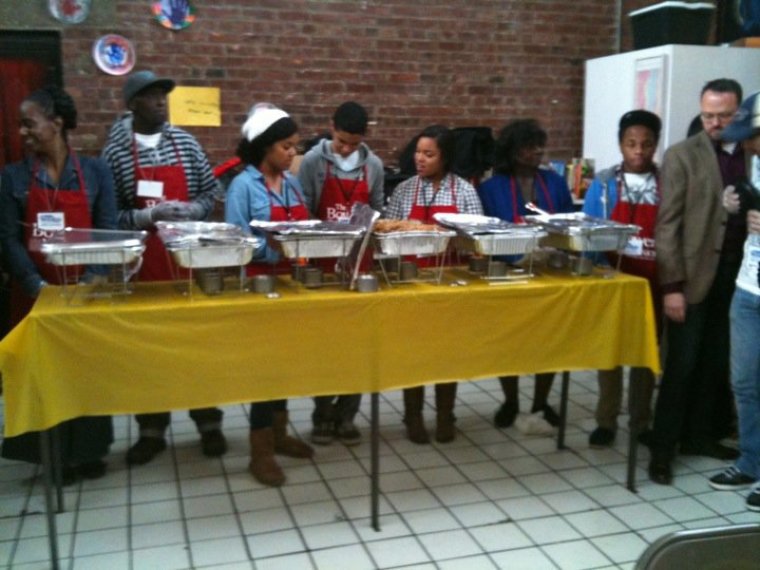 A number of volunteers banded together for the good cause and took to the streets of the local community to advertise the free Thanksgiving dinner.
"Every year we give out 5,000 invitation postcards, so we've been handing those out into the community every Saturday. We're actually on the street [and] hand delivering in different buildings. [It's] a lot of footwork," Stutzman explained. "[Guests] don't have to show ID or proof of anything. Just come and eat. Then once they eat they can kind of go 'shopping.' Everything is free, of course, whatever we have. I've been working with World Vision a lot this year so we have a good amount, and then I also ask the volunteers to bring bags of gently used clothes or toiletry items like soap, shampoo, toothpaste etc."
Stutzman said that while a lot of hard work goes into preparing the church's annual Thanksgiving dinner, he still enjoys every minute of it.
"Well, I love it. What motivates me really is seeing God continue to provide for this outreach. People have given to our church financially to help us — donations, just even the word of mouth, volunteers and of course the stories that come out of the day," he said.
"A couple years ago (we also send a little outreach team into the community the day of just to remind people) there was actually a little team that went down to the Hunts Point station where the 6 train is. They saw a homeless man that was actually about to jump in front of a train to commit suicide," he continued. "They convinced him not to jump and to come and have some dinner. And sure enough he came and he ate and I still see him to this day walking around the community. So we actually probably saved his life that day because we were having Thanksgiving."
Stutzman said living out the Gospel and spreading the Word is just a part of his church's ministry philosophy.
"That's what motivates me is just the love of God that we get to share with people who are hurting, and that's just a great way to show the Gospel. That's really been my ministry philosophy with Real Life church in Hunts Point — is showing the Gospel and let them see who the Lord is through ways that's not always screaming preaching," he added. "Some people just need to be comforted with some turkey and mashed potatoes."
The Real Life Church's FREE Thanksgiving dinner will be held from 11 a.m. to 4 p.m. at The Point Community Center in the Bronx on Nov. 27.
FOR MORE INFORMATION ON THIS EVENT CLICK HERE