New York Pastor's Rifle Raffle: USA Was Built on 'King James Bible and A Gun,' Says John Koletas
A New York pastor's rifle raffle is causing contention and controversy in the upstate New York community in which he lives. Pastor John Koletas of Troy's Grace Baptist Church is giving away a free modified AR-15 to a congregant that attends their service March 23, he announced Thursday.
The New York Pastor's rifle raffle was created to support the right to bear arms as protected by the 2nd Amendment, gun owners and hunters whom Rev. Koletas believes have been unfairly maligned by the media.
"We're honoring gun owners and hunters," Koletas told the New York Daily News. "And we're being a blessing and a help to people who have been attacked, viciously attacked, by socialists and anti-Christian people— the politicians and the media."
The pastor even created a flyer for the giveaway to get more people to come to church in the following Sundays— normally his congregation numbers about 200.
"Win a free AR-15," the headline reads in bold letters. "My peace I give unto you … John 14:27. 'Does the Bible defend my right to keep and bear arms?'"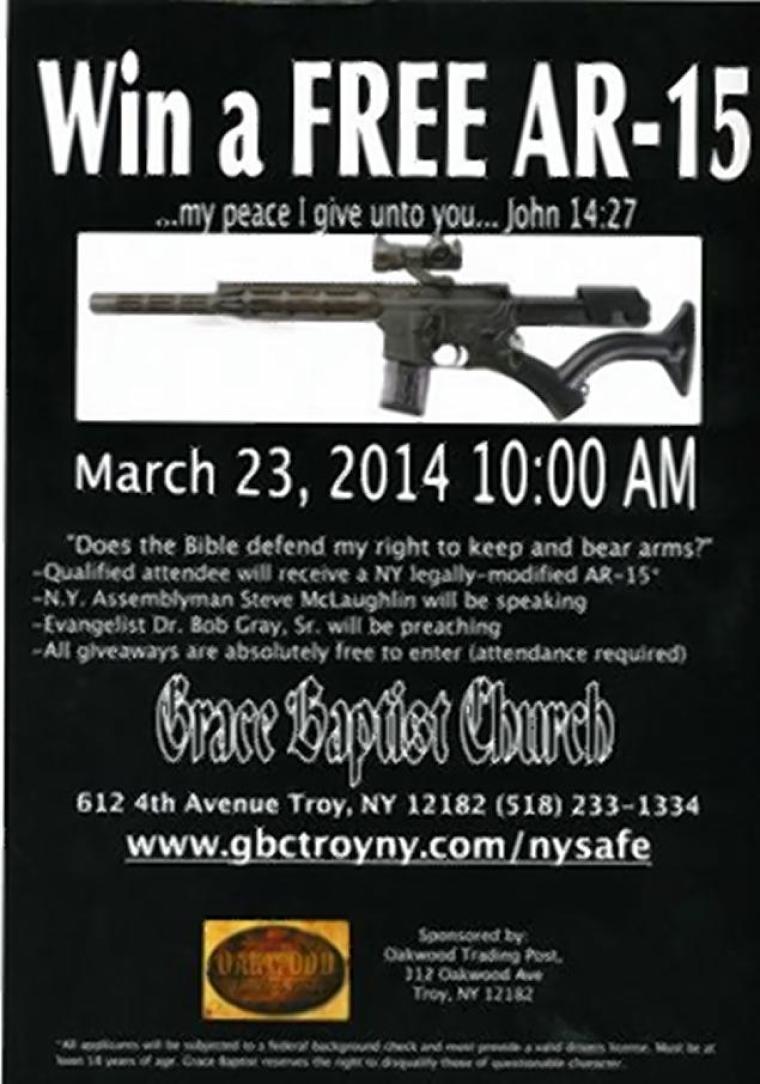 Normally, the AR-15 is illegal, but the one that will be given away has been modified. Whoever wins the raffle has to be 18 years old with a legal drivers' license and pass a background check. The high-powered rifle, which is capable of shooting 800 rounds per minute, will be given away by the Oakwood Trading Post.
Although Koletas characterized the response to the raffle as "overwhelmingly positive" among the congregation, others in the community are disturbed, especially in light of the weapon's history— both the Aurora, Colo. shooter James Holmes and Sandy Hook elementary killer Adam Lanza used the gun in their rampages.
"I do not feel this has anything to do with religion whatsoever," one anonymous neighbor who received a postcard advertising the event told The Troy Record. "I usually don't get involved in conversations about church or politics, but this really appalled me."
"The church was very radical," Randy Harlow, a city resident who attended the church until he was 18, explained. "They preached a state of mind and how to look. People would look down on you if women didn't wear dresses and men didn't wear ties."
"But they never talked about politics or gun rights while I was there," he added.
Now it seems things have changed at Grace Baptist Church. Koletas is determined to raffle the AR-15, and police in the area say the event is completely legal.
"Our country was built with the King James Bible and a gun," Koletas wrote in an online letter.