Next-gen 2016 Toyota Innova to be launched in India next year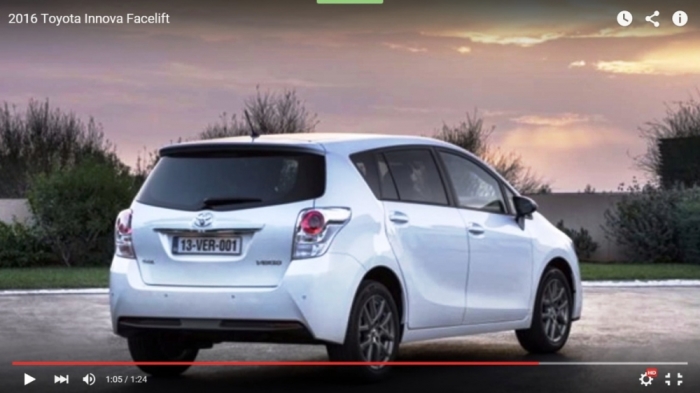 Toyota's next-gen 2016 Toyota Innova is set to be launched in India early next year, although the Japanese carmaker remains mum on the new vehicle's global unveiling.
Toyota is scheduled to unveil the updated 2016 Toyota Innova before the year ends, but it still has not confirmed when. However, there are reports that the new-gen Innova will be launched in Indonesia next month, according to the International Business Times.
A report by autonetmagz says the 2016 Toyota Innova launching will happen during the 2015 Jakarta Auto Show. The event will run alongside the Indocomtech 2015, which will run from Oct. 28 to Nov. 1, the report details.
Toyota has already started the testing phase for the next-gen Innova in India. News about the final production model have also made their rounds on the Internet, Indian Cars Bikes reports.
The new Toyota Innova, or Kijang in some international markets, will reportedly have improved safety features including dual airbags, ABS brakes, and middle seat Isofix, or the International Standards Organization Fix developed by car seat makers. Instead of seatbelts, the system utilizes fixed connection points to correct the erroneous position of two-thirds of car seats. The car's third row will be noticeably more spacious, the report adds.
As for the features under the hood, the 2016 Toyota Innova is expected to run on either 2.4 or 2.5-liter diesel engines with six-speed manual and automatic transmissions. It will also be bigger and lighter compared to its predecessor, with bigger front grille and updated bumpers, the report relays.
In addition, the new Toyota multi-purpose vehicle will include headlamps with LED daytime lights and fog lights.
The new Toyota Innova's interior is also expected to have a lot of improvements, including dual-tone patterns and updated steering wheel. The car will also come with a touchscreen head unit.
The 2016 Toyota Innova will reportedly be unveiled during the Auto Expo 2016 in New Delhi and may be launched in June.