NFL Players Show Support for Eric Garner, Mike Brown and Trayvon Martin on the Field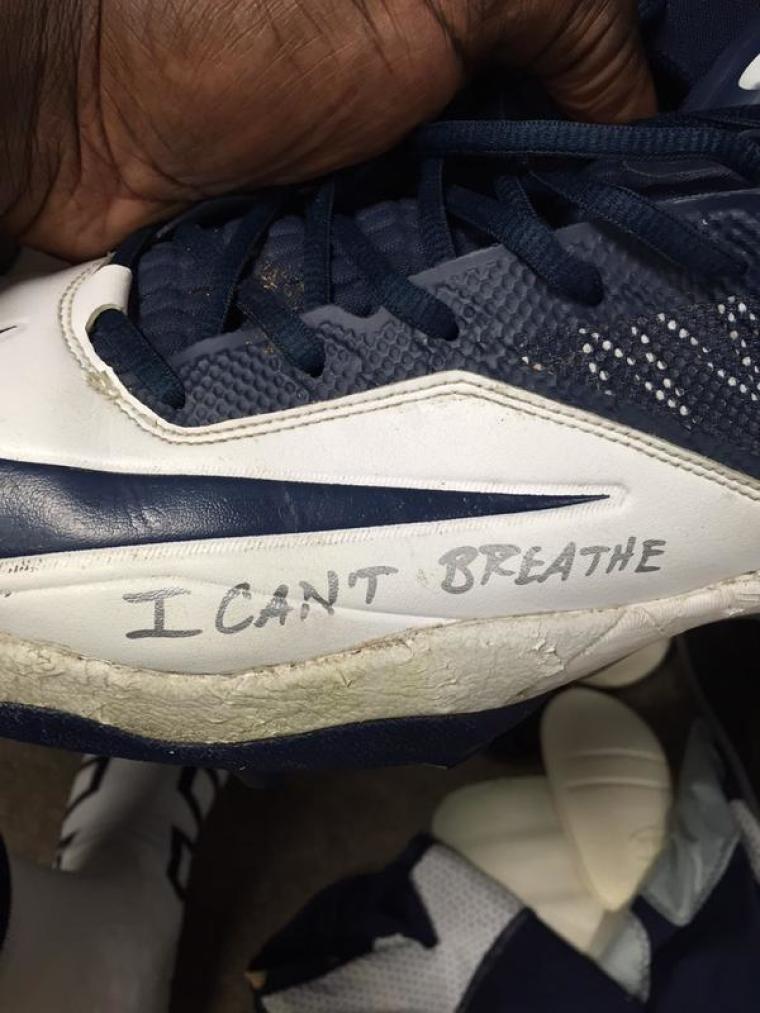 Several members of the NFL and other national sports organizations have shown their support for Eric Garner and others killed by police in very public ways.
Detroit Lions running back Reggie Bush and Cleveland Browns cornerback Johnson Bademosi both warmed up for Sunday's game wearing shirts that stated, "I can't breathe." St. Louis Rams offensive lineman Davin Joseph wrote the message on his cleats. Rams receiver Kenny Britt wrote the names of Michael Brown, Trayvon Martin, and more on his own cleats. All wanted to show their support for Staten Island resident Eric Garner, who died from a chokehold by a member of the NYPD.
The United States seemingly erupted after a video of the incident was posted online and a grand jury decided not to indict Daniel Pantaleo, the police officer responsible for putting Garner in the fatal, illegal chokehold. However, one week before that grand jury rendered its decision, five Rams players took to the field with their hands raised in the "Hands Up, Don't Shoot" position, showing support for Michael Brown, who was killed by Ferguson, Missouri officer Darren Wilson.
"I feel like we should support what we feel is right," Joseph told the Associated Press. "We should always have an opinion of sticking up for people who don't have a voice."
"Honestly, I've always been the quiet kid," Bush explained. "I've always been the one who's reserved, to kind of sit back and not really get into politics and things like that. But I don't know why I just felt some kind of … I guess the situation just touched me. It's kind of resonated [with] me. Not because I've been through a similar situation or because I've seen anybody go through it. I just really felt terrible about what was going on these past couple of weeks."
After the Rams entered the stadium with their hands raised, they were severely criticized by members of the police force who wanted them to be punished by the NFL. However, the organization decided not to do so and said the players had the right to express themselves. That sentiment was echoed by the Lions' coach Jim Caldwell, who said he stood behind Bush's expression.
"I grew up in the '60s, where everybody was socially conscious. I believe in it. I'd be a hypocrite if I stood up here and told you any differently, because more than likely, some of those protests that Dr. King and some of the others that took part in non-violent protests, is the reason why I'm standing here in front of you today," Caldwell said.