Nickolas Coke, 'Boy Without a Brain,' Dies Aged 3 (VIDEO)
When Nickolas Coke was born, doctors didn't give him a fighting chance of survival. But after beating those odds and three miraculous years of life, Nickolas has passed away.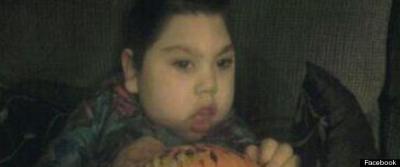 Nickolas was born with only one brain stem and, in essence, no brain. Most babies born this way are miscarried, but Nickolas not only made it to term, but went on to live another three years without being "hooked up to any machines, no tubes, no nothing," his grandmother, Sherri Kohut, told KOAA in Colorado.
Nickolas has been having difficulty breathing, and when he stopped, his family called paramedics who administered CPR. "They told us, 'no more, let him go,'" Nickolas' grandmother said. "So he died at 12:40 today. Peacefully."
During his three years on earth, Nickolas' family tried to make sure every day mattered and was an experience for him. Pictures show a smiling boy in a Santa Claus hat, and most recently, having fun at a pumpkin patch.
"He was laughing because he thought it was funny that we couldn't get him to stay still long enough to roll off the pumpkins," Kohut explained. "He taught us everything; he taught the love, how to be family. He taught us everything."
Babies like Nickolas are extremely rare; the National Center for Biotechnology Information says children born with anencephaly are 1 in 10,000 births, but the exact number is unknown given that many end up in miscarriage.
Nickolas' story has not only won the hearts of people in Colorado but across the nation. Many call him a miracle baby who defied the odds and can teach man about the human will to survive.
"It's extremely rare to even live a month let alone 3 years," noted Huffington Post reader Mouse223. "This young man has taught us a lot about pushing through the impossible."
"RIP little angel," added Baron Hans. "That you survived against all odds for 3 yrs proves the love of your family and your love for them works miracles."
God Allows Miracle Baby to Function Without a Brain