Nigeria: 4 Churches Burned Down, Scores Killed in Deadly Boko Haram Attack on Christians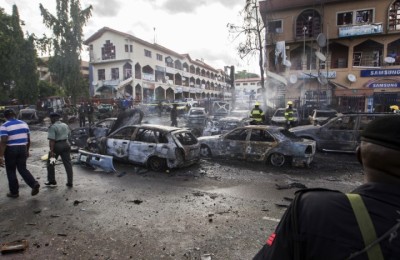 Islamic terrorist group Boko Haram has killed scores of worshipers and burned down four churches in a major attack on Christians in Kwada and Kautikari villages in Nigeria.
"They killed dozens of people and burned houses after attacking worshipers," survivor Mallam Yahi told The Associated Press on Sunday after escaping to Chibok.
A vigilante group fighting Boko Haram has said that at least 30 bodies have so far been recovered from the bushes, where people tried to escape from Kwada.
Some of the churches destroyed include the Protestant Church of Christ in Nigeria, the Pentecostal Deeper Life Bible Church and Ekklesiyar Yan'uwa, which is Hausa for Church of the Brethren in Nigeria, Yahi.
After their attack on Kwada, the militants apparently went to Kautikari where they gunned down villagers and burned down homes, but the death toll is not yet known there.
"The latest attack by Boko Haram on four churches and those innocently attending Sunday services inside once again affirms the religious motivation of this group's heinous crimes against the Nigerian people. For years, the Christian population of north Nigeria has faced a devastating offensive by Islamic militants that has yet to be effectively countered," said Cameron Thomas, International Christian Concern Regional Manager for Africa.
"Today, the bloodied soil of Kwada and Kautikari villages serve as a heart-rending cry for greater action to ensure the safety of Christians wishing to exercise their right to practice their beliefs free from fear of retribution at the barrel of gun or trigger of an explosive."
Boko Haram's war on the Nigerian government and Christians has stretched for five years now, and despite President Goodluck Jonathan's promise that the army will do all it can to defeat the extremists, the deadly attacks have continued on an almost weekly basis.
Last week, Boko Haram attacked military camp in the neighboring local government area of Damboa and killed at least 51 soldiers. The terrorists apparently had armored personnel carriers mounted with anti-aircraft guns and were armed with rocket launchers and submachine guns, a much heavier arsenal than the soldier's AK47 assault rifles.
Meanwhile, the Christian Association of Nigerian-Americans has sought to rekindle international concern over the 200 or so schoolgirls that were kidnapped by the Islamic militants in April, which sparked international outrage.
"Those victims are still there and their pains are our pains. We have been receiving all kinds of sad tales about their fate including tales of brainwashing, unending rapes, untreated sicknesses and forced weddings," CANAN wrote in a press release.
"Innocent Nigerians are still at the mercy of these merchants of blood, tears and sorrow. The Nigerian government continues to wonder and wander as the terrorists continue to hit at random. The world should however not keep their peace as yet," the group wrote, and asked for the U.S. government and other countries that have sent military forces into Nigeria to look for the girls to release an update on the situation.
Earlier in June, persecution watchdog group Open Doors released a top 10 list of countries where Christians face the most violent attacks for their faith, with Nigeria topping the list, largely because of Boko Haram.
"The alarming trend of violence against Christians in Nigeria over the past months highlights the lack of religious freedom they have and the daily dangers they face from the Islamic terrorist group Boko Haram and other violent Islamic organizations," said Open Doors USA President/CEO Dr. David Curry.
"Going to school, attending church or identifying yourself as a Christian is a very brave decision in Nigeria. It is turning into a bloodbath. Christians in the West must stand in the gap with our prayers and support."