Nigeria's Boko Haram Violence Killed as Many People as ISIS in Iraq, New Figures Say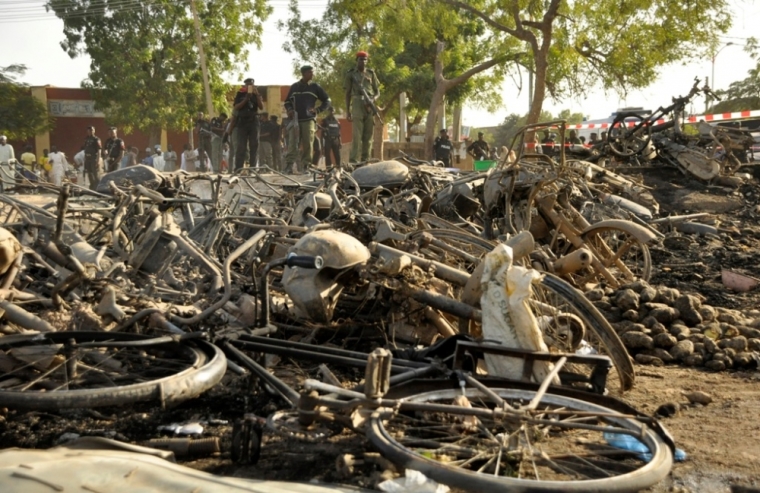 Deaths related to violence caused by Nigeria's Islamist terror group Boko Haram is now comparable with the number of civilians killed by the Islamic State, or ISIS, group in Iraq, according to new figures.
Between November 2013 and November 2014, at least 10,340 violent deaths related to Boko Haram-related violence were reported, according to data compiled by the Council for Foreign Relations.
According to the United Nations figures, 10,733 civilians were violently killed by ISIS in Iraq in the same period.
Boko Haram, which translates as "Western education is sin," is designated as a foreign terrorist organization in the United States and the European Union. It was formed by an Islamic cleric, Mohammad Yusuf, about a decade ago to fight Western education, which he claimed was behind moral and political corruption in the country. Yusuf was from the Salafi movement, which has promoted jihadist terrorism in several countries.
"The state security services claim that everybody it kills is a member of Boko Haram, and Boko Haram claims that everyone they kill deserves to die," writes John Campbell, a senior fellow at CFR. "Most of these people, however, are likely to have been innocent," adds Campbell, former U.S. ambassador to Nigeria.
The think-tank says there is a dearth of accurate reporting across certain regions, death tolls are imprecise, and accounts of incidents vary. There also is the potential for political manipulation of media, it notes, and explains that due to these limitations, it has collected information from multiple sources.
While international media have focused its coverage on the ongoing fight against ISIS in Iraq and Syria, Boko Haram terrorists have also caused immense suffering in Nigeria.
Boko Haram men kidnapped more than 200 schoolgirls in April.
The girls were abducted on the night of April 14-15 from the Government Girls Secondary School in the town of Chibok in eastern Borno State. It is not clear exactly how many girls were kidnapped, and how many remain captive. Reports suggest more than 300 had been abducted and at least 270 are still with Boko Haram men.
The Islamist group claims these girls were converted to Islam and married off.
Thousands of people have died in attacks since Boko Haram's insurrection began in 2009. It has also killed numerous Christians and attacked several churches.
It is apparently seeking to create an Islamic state in the Muslim-majority northern Nigeria. It is believed that it gained technical sophistication and weaponry with help from groups like al-Shabaab in southern Somalia and al-Qaida in the Islamic Maghreb in Mali.
ISIS, which has gained control over large territories in Iraq and Syria, is an al-Qaeda offshoot and seeks to form an Islamic emirate in the Levant region through "jihad."
In Syria, the ISIS has taken over hundreds of villages around the Kobani region in Syria, and tens of thousands of people from the region have fled to Turkey.
In Iraq, ISIS men have killed hundreds of civilians. Numerous members of the Christian and Yazidi minorities have also been killed, and tens of thousands of them have fled their homes. About 5,000 Yazidi girls and women were recently taken captive by ISIS to be sold or given to fighters as slaves.
A U.S.-led coalition has been launching airstrikes on ISIS position in Iraq and Syria since August.