Nik Wallenda's Grand Canyon Walk 'Advertisement' for Power of Prayer, Christianity?
Joel Osteen, Pastor of Lakewood Church, Supported Tightrope Walker During Historic Feat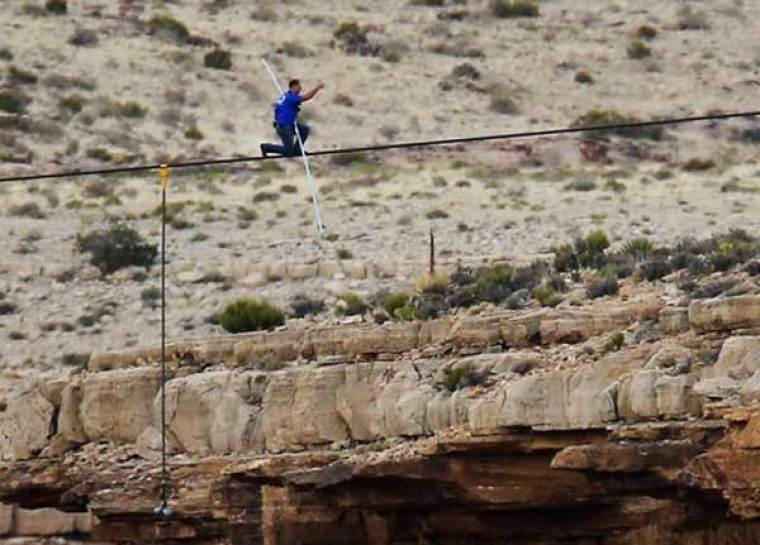 CNN's Piers Morgan suggested in an interview with evangelical Christian minister Joel Osteen that daredevil tightrope walker Nik Wallenda's constant call on God in Jesus' name during his live, nail-biting high-wire walk near the Grand Canyon put Christianity before the eyes of millions of viewers in the U.S. and around the world.
"I mean, in terms of an advertisement for the power of prayer and Christianity in America, pretty awesome, isn't it?" Morgan asked Pastor Osteen during the megachurch leader's appearance on his program Tuesday night.
"It really is," said Osteen. He went on to quote what Wallenda has shared with him: "He said, 'Joel, this is the way I'm supposed to use my gifts, I feel, is to bring glory to God. I'm in a unique position.'"
Wallenda's 1,500-feet-high walk on a two-inch-thick metal cable across the Little Colorado River Gorge near the Grand Canyon — harness-free — not only added a major notch in the seventh generation tightrope walker's career, but it brought the Discovery Channel, which featured the event as a two-hour-plus program, a massive hit in ratings.
Discovery revealed Monday that "Skywire Live With Nik Wallenda," which included a pre-show in addition to the main tightrope event, drew in 12.98 million viewers, meaning the devout Christian highwire artist's program brought the network its best night in ratings since July 2010. Wallenda's major feat made an impact on social media and a live Internet broadcast as well, with his historic walk generating 1.3 million tweets and more than 2.1 million streams of the event at SkywireLive.com. All eyes, and ears, were definitely on Wallenda Sunday night.
As he did during his historic walk across Niagara Falls in 2012, the 34-year-old married father of three who has been dubbed "The King of the Wire" called on Jesus, whom Christians call the king of kings, as he "stepped slowly and steadily...jogged and hopped" for 22 hair-rising minutes across the quarter of a mile (1,400 feet) expanse between the gorge's cliffs. Wallenda seemed to pray the hardest when sudden wind gusts, said to have hit 30 mph, visibly whipped across his body and forced the acrobat to pause and kneel to check his rhythm. It was during those times Wallenda could be heard saying things like "thank you, lord" and "praise you, God, praise you, Jesus." When he finally arrived near the end of his walk, Wallenda ran the remaining few feet, hopped off the wire and kissed the ground.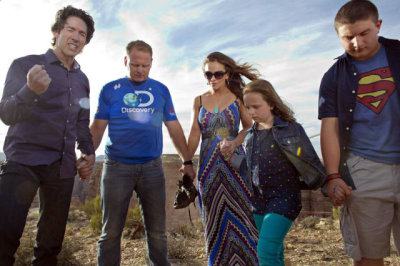 Pastor Osteen, who has supported Wallenda during his preparation for his historic walk 1,500 feet above ground, was present with him and his family during the Discovery Channel live event. The pastor and best-selling author was asked by Morgan what he would have said if the Florida native had fallen to his death during the walk, as other high wire artists in his family have done during events.
"You as a pastor, there's a man repeating over and over again, Jesus, pray, God, and so on," said Morgan. "If he had fallen, what would you have said?"
"You know, I really didn't think about it. I guess my thoughts were, Piers, that, you know he was doing what he loved to do. He felt like he is fulfilling his destiny of doing that," said Osteen, who admitted that he was probably more nervous than Wallenda about the walk. "He comes from seven generations of it. Nik is a great guy. If he had fallen, I would have to cross the bridge when we got to it. It would have been tragic but we just focused on the fact that he made it through, and you know, we're just happy for him."
Osteen also revealed that he and the Wallenda family had prayed specifically for God to give him strength and skill and to draw out his gifts "to the full" during the high wire artist's now famous Grand Canyon walk.
"He's an extremely calm, peaceful person," the Houston, Texas, pastor added. "He just believes he's in the palm of God's hand doing what he's supposed to do. So he's an amazing man, and we just prayed for peace and strength, though."
Wallenda, who became the first person to walk across Niagara Falls via a high wire, told The Christian Post in an exclusive interview before his Grand Canyon feat that he has no fear about what he does, and instead "respects" his chosen profession.
As for criticism about him "testing God" by performing such dangerous acts, Wallenda told CP:
"If I was testing God, I'd walk out in the middle of an interstate in the rain while a car was coming at me at 70 miles an hour and say, 'God, if you're real the car will stop.' I don't believe God holds me on that wire in any way. I believe that God gave me a very unique ability to walk the wire and it's up to me whether I want to train properly or whether I want to prepare for it."
He added, "It's my decision whether I want to get on that wire or not. And again, I don't think God keeps me up there, but I definitely know where I'm going if I fall."