NYC's Trinity Church Selling Luxury $12M Townhouse After Exit of Ex Rector Accused of Extravagant Spending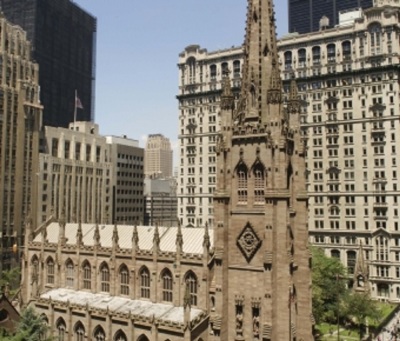 The historic Trinity Church in lower Manhattan is selling a lavish Soho town house, months after the retirement of its controversial former rector, the Rev. Dr. James H. Cooper, who had demanded the building as his home.
The church, seen as one of the world's richest Anglican parishes, has put the home on the market for $12 million, New York Post reports.
The church bought it for $5.5 million, claiming the building would be used as a permanent rectory for future leaders of the church, but is selling it after Cooper retired in February.
Cooper's replacement, the Rev. William Lupfer, has been given a 2,300-square-foot Battery Park City apartment with three terraces and riverfront views, according to the post. The rent was advertised at $15,000 a month.
Cooper, 70, and his wife, Octavia, have now moved to Ponte Vedra Beach in Florida.
Copper was accused of subversion of the institution's mission and extravagant spending in 2012, and 10 of the 22 members of Trinity Church's board of directors were allegedly either forced out or quit.
Accusations against him included misreporting of numbers of worshippers on Sunday services; demands for the Soho townhouse, an allowance for his Florida condo and a fat salary; trips around the world at church's expense, wasting more than $1 million on development plans for a luxury condo tower; and spending $5 million on a publicity campaign.
"The Trinity Vestry has accepted the Rev. Dr. James H. Cooper's intention to retire in February, 2015," the Episcopal Church wrote in a letter to Cooper earlier. "The parish will engage in an 18-month search process in order to find Dr. Cooper's successor."
Cooper – a former rector at Christ Episcopal Church in Florida and who was appointed as the rector of the 314-year-old Trinity Church in 2004 – also reportedly fought with church officials over his retirement, insisting on a burial plot in Trinity's historic Lower Manhattan graveyard, which stands near Ground Zero.
In 2011, Cooper had agreed to step down in exchange for a lavish retirement package, but later refused to go at the time.
Located at the head of Wall Street, Trinity Church has been part of New York City's and America's history since its charter in 1697, says the institution, which has more than 6 million square feet of commercial real estate in lower Manhattan.