NYT Guilty of 'Anti-Christian Bigotry' with Mike Pence 'Hit Piece,' Focus on the Family Director Says
NYT Guilty of 'Anti-Christian Bigotry' with Mike Pence 'Hit Piece,' Focus on the Family Director Says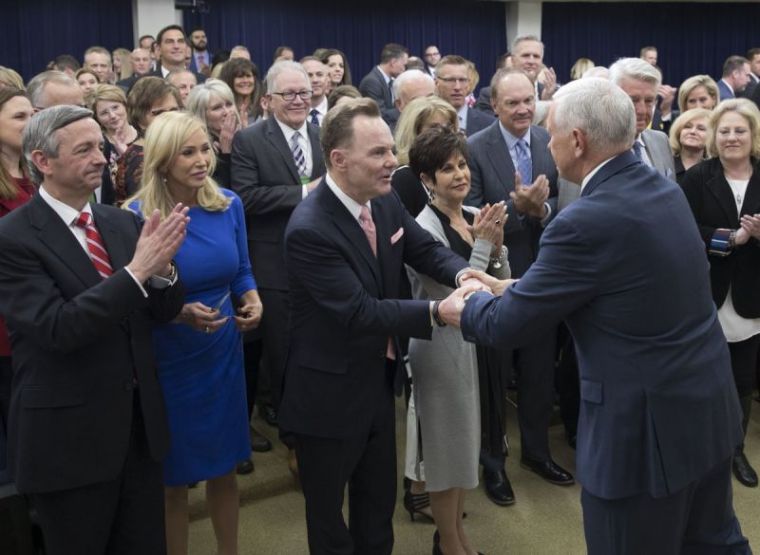 Evangelical author Glenn T. Stanton has accused the New York Times and columnist Frank Bruni of "anti-Christian bigotry" for publishing a recent "hit piece" against Vice President Mike Pence.
Stanton, director of family formation at the James Dobson-founded evangelical organization Focus on the Family, wrote an op-ed in The Federalist Monday titled "The New York Times' Hit Piece On Mike Pence Is Anti-Christian Bigotry, Plain And Simple"
Stanton's piece was in response to Bruni's recent opinion column: "Mike Pence; Holy Terror."
"The New York Times' Frank Bruni really upped his game this week," Stanton wrote. "In an atrociously brutal piece, he called Vice President Mike Pence a 'holy terror,' claiming he's multiple degrees more sinister than President Trump, the otherwise most sinister person on the planet. Bruni actually warns the best case against impeaching Trump is the much greater danger of Pence."
Warning about the consequence of a potential impeachment of Trump, Bruni claims that Pence "mirrors" his boss and accuses the former Indiana governor of being "self-infatuated," "a bigot," "a liar" and "cruel." But what makes Pence worse than Trump, Bruni argues, is that Pence has a "conviction that he's on a mission from God."
Bruni contends that Pence has the "determination to mold the entire nation in the shape of his own faith, a regressive, repressive version of Christianity."
"Trade Trump for Pence and you go from kleptocracy to theocracy," Bruni wrote.
Bruni noted a forthcoming book by journalist Michael D'Antonio titled "The Shadow President: The Truth About Mike Pence." Bruni claims the book is the "most thorough examination of the vice president's background to date" and presents, with a "mostly measured tone," "an entirely damning portrait of Pence."
Yet, the book was written by a man who claims that Pence is nothing more than a "religious zealot."
"In Pence's view, any bite marks in his tongue are divinely ordained," Bruni wrote after reading the book and interviewing D'Antonio. "Trump wouldn't be president if God didn't want that; Pence wouldn't be vice president if he weren't supposed to sanctify Trump. And his obsequiousness is his own best route to the Oval Office, which may very well be God's grand plan."
Stanton argued in his op-ed that Pence is not much different than millions of Americans who are "run-of-the-mill" evangelicals. He added that charges of "theocracy" against Christian politicians like Pence are getting old.
"He believes that God governs the affairs of men, that prayer is effectual and worth doing, that marriage and family are best when built upon a married mother and father, that life is sacred and abortion destroys life, and that God appoints our government's leaders, even those who are hostile to Him," Stanton wrote of Pence.
Stanton questions how one should even respond to the "meteoric hyperbole masquerading as thoughtfulness" in Bruni's piece.
"Every person in government who's possessed any measure of traditional Christian conviction and has the temerity to live by it has been accused of wanting to start a theocracy," Stanton wrote. "The charge has grown quite thin and it has never even come close to happening."
Stanton stated that Bruni has displayed the "kind of elitist bigotry that fueled Trump's ascendency."
"But they keep topping off that tank with tanker-truck after tanker-truck of high-test vitriol," Stanton wrote. "Bruni knows Pence is guilty of all of this and it disqualifies him, not only as a leader of our nation, but as a sane person, because there's a new book coming out that says so."
Responding to D'Antonio's claim that Pence is a "religious zealot," Stanton argued that the author is equating religious zealotry with a "a person who strongly believes things of faith that you disagree with."
"It's a very subjective word and thus makes it easy to throw around with equal parts casualness and moral superiority," Stanton wrote. "But it is likely true that most people do understand that Pence is a man of serious faith, and they like him for it."
This is not the first time that Pence has been criticized for his faith. Earlier this year, "The View" co-host Joy Behar received criticism and apologized for calling Pence's Christian faith a "mental illness."
"It's an insult not to me, but to the vast majority of the American people who like me cherish their faith," Pence said in response to Behar at the time. "It demonstrates how out of touch some in the mainstream media are with the faith and values of the American people. That you could have a major network like ABC permit a forum for invective against religion like that."
Even before Trump and Pence took office, some on the political left were arguing that Pence is "even more terrifying than Trump."
After the November 2016 election, journalist Jeremy Scahill wrote that Pence could be the "most powerful Christian supremacist in U.S. history."
Pence has long been criticized by the political left for his views on abortion and LGBT issues. He has also been criticized by LGBT groups for his support and relationship with evangelical leaders such as Tony Perkins of the Family Research Council and James Dobson, the founder of Focus on the Family.