Obama Lied About Supporting Traditional Marriage in 2008, Former Advisor David Axelrod Reveals in New Book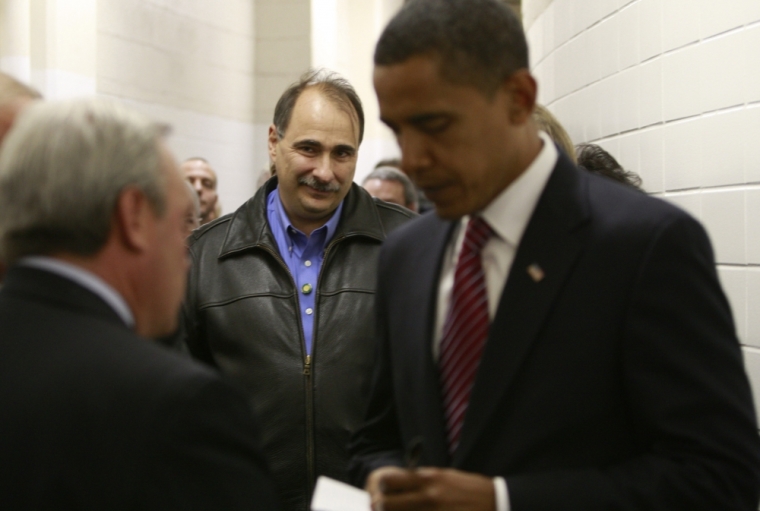 President Barack Obama intentionally misled voters when he stated that he supported traditional marriage during his 2008 presidential election campaign, former Obama advisor David Axelrod claims in his new book.
Obama supported same-sex marriage when he was an Illinois state senate candidate in 1996, but claimed he opposed same-sex marriage when he ran for president in 2008.
"I believe that marriage is the union between a man and a woman," Obama told pastor Rick Warren at Saddleback Church in 2008, adding that he supports civil unions for same-sex couples.
But that was not true, Axelrod wrote in Believer: My Forty Years in Politics, which was published Tuesday.
According to Time's Zeke Miller, who recieved an advance copy, Obama did not think he pulled off the deception well. He turned to Axelrod after the Warren interview and said, "I'm just not very good at bullshitting."
Obama already supported same-sex marriage, and spoke with his campaign advisors, including Axelrod, about how to speak about the issue, given his conviction that marriage should be redefined to include same-sex couples, according to the book.
By his own admission, Axelrod, along with campaign manager Jim Messina, advised Obama to lie about his position because it could cost him the state of North Carolina (which he won in 2008).
Throughout most of his first term, Obama claimed he was "evolving" on the issue of gay marriage, but "as a Christian" still believed that marriage was between one man and one woman.
"Yet if Obama's views were 'evolving' publicly, they were fully evolved behind closed doors. The president was champing at the bit to announce his support for the right of gay and lesbian couples to wed — and having watched him struggle with this issue for years, I was ready, too," Axelrod wrote.
In May of 2012, Obama claimed he had changed his mind and was in support of gay marriage. The announcement came reluctantly. After Vice President Joe Biden accidentally claimed he supported gay marriage in an interview on NBC's "Meet the Press," Obama was under increased pressure to clarify his views about marriage.
"At a certain point I've just concluded that, for me personally, it is important for me to go ahead and affirm that I think that same-sex couples should be able to get married," Obama said in an interview with ABC News.
Miller's subtitle referred to the book's revelation as "a striking admission of political dishonesty."