Obama to UN: US Respects Universal Values of Religious Freedom, Free Speech
In a speech at the United Nations Tuesday, President Barack Obama addressed the killing of U.S. Ambassador Chris Stevens and riots in the Middle East. After suggesting that the riots were caused by a film offensive to Islam, Obama said that the United States respects the values of religious freedom and free speech, which are universal values codified in the U.S. Constitution.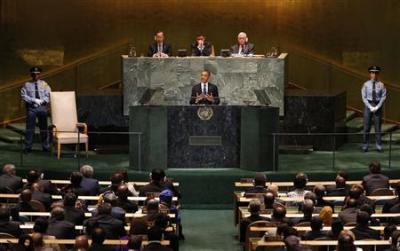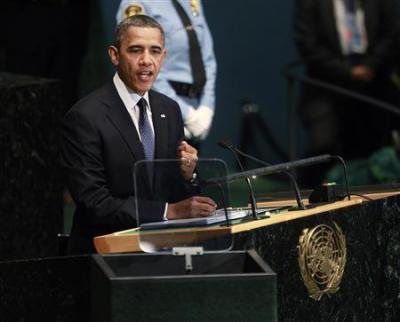 Obama began an ended his speech praising the life and service of Stevens.
Stevens "embodied the best of America," Obama said, because of the principles he stood for -- "a belief that individuals should be free to determine their own destiny, and live with liberty, dignity, justice, and opportunity."
After denouncing the violence in the Middle East and calling for Syrian dictator Bashar al-Assad to step down, Obama said the United States takes those positions because, "we believe that freedom and self-determination are not unique to one culture. These are not simply American values or Western values -- they are universal values."
Progress has been made in the Middle East, Obama argued, and "true democracy -- real freedom -- is hard work."
Religious, racial and tribal conflicts arise, Obama said, with globalization, as nations become more interdependent with one another. And those who wish for religious freedom must respect the religious freedom of others.
"In every country, there are those who find different religious beliefs threatening; in every culture, those who love freedom for themselves must ask how much they are willing to tolerate freedom for others."
Obama, and other administration officials, have continued to blame the recent uprisings on an anti-Islam video produced in the United States. Others disagree. Obama repeated the assertion in his U.N. speech.
"I know there are some who ask why we don't just ban such a video. The answer is enshrined in our laws: our Constitution protects the right to practice free speech," Obama explained. "Here in the United States, countless publications provoke offense. Like me, the majority of Americans are Christian, and yet we do not ban blasphemy against our most sacred beliefs. Moreover, as president of our country, and commander-in-chief of our military, I accept that people are going to call me awful things every day, and I will always defend their right to do so. Americans have fought and died around the globe to protect the right of all people to express their views -- even views that we disagree with."
Efforts to limit free speech, Obama warned, could be used to silence critics or oppress minorities. The United States protects free speech, Obama said, "because given the power of faith in our lives, and the passion that religious differences can inflame, the strongest weapon against hateful speech is not repression, it is more speech -- the voices of tolerance that rally against bigotry and blasphemy, and lift up the values of understanding and mutual respect."
At a time "when anyone with a cell phone can spread offensive views around the world," Obama said, efforts to censor speech are obsolete.
Obama also condemned those who use speech they find offensive as an excuse for violent acts against others, saying, "There is no speech that justifies mindless violence."
He also called on those who denounce slander against Muhammad to be consistent and also denounce "the hate we see when the image of Jesus Christ is desecrated, churches are destroyed, or the Holocaust is denied."
Obama briefly addressed the Israeli-Palestinian conflict and Iran. He reiterated his call for a two-state solution, a secure Israel and independent Palestine, and said the United States will do what it must to prevent Iran from obtaining a nuclear weapon.
Obama's speech came the same day that an interview, taped Monday, was aired on the daytime ABC talk show "The View" and he gave a speech at the Clinton Global Initiative summit in New York City. Critics derided him for choosing to appear on "The View" instead of the customary meeting with world leaders during the U.N. General Assembly annual meeting.
"When it comes to foreign policy, the President seems to be waiting out till the election. Unfortunately, the problems of the world don't wait and almost four years of taking a backseat to many of these situations is catching up with us, as we've seen," Sen. Rob Portman (R-Ohio) said in a Tuesday statement.
"Our embassies were attacked -- and he called YouTube. Israeli Prime Minister Benjamin Netanyahu requested a meeting -- and he does 'The View' instead. The American people, and our allies, deserve better from the President, including today at the U.N."