'Obamacare' Enrollment Surge Not Enough to Outweigh Lost Plans, Reports Say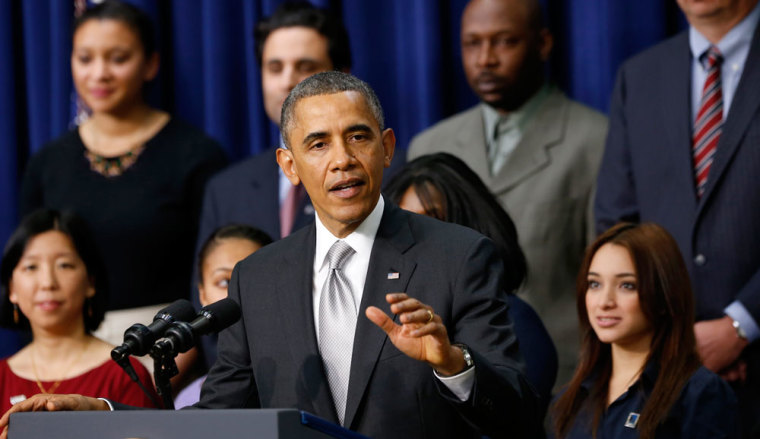 Despite a surge in enrollment under the Affordable Care Act, also known as "Obamacare," more Americans have lost their original health plans than have gained insurance in the new program by Jan. 1, the first day of full implementation.
On Dec. 26, The Associated Press reported that at least 4.7 million Americans received notification that their current plan would be canceled due to Obamacare mandates. This number does not account for the 17 states – such as Texas, Ohio, and Virginia – which are not currently tracking cancellations. In both state and federal exchanges, only 2 million Americans have signed up for coverage under Obamacare, the Department of Health and Human Services confirmed.
Christopher Conover, a Duke University scholar and adjunct scholar at the American Enterprise Institute, predicted that over 100 million Americans would lose coverage by the end of the year. "Bottom line: of the 189 million Americans with private health insurance coverage, I estimate that if Obamacare is fully implemented, at least 129 million (68 percent) will not be able to keep their previous health care plan either because they already have lost or will lose that coverage by the end of 2014," Conover told The Daily Caller in November.
The Obama administration issued a "hardship exemption" in late December, waiving the tax on individuals without compliant health insurance, if their plans had been canceled due to new regulation, Politico reported. While it helps those who lost insurance, "this latest rule change could cause significant instability in the marketplace and lead to further confusion and disruption for consumers," Karen Ignagni, president of industry trade group America's Health Insurance Plans, told Politico.
In addition to this new exemption, the administration may be lowering its enrollment goals. "I think success looks like at least 7 million people having signed up by the end of March 2014," HHS Secretary Kathleen Sebelius told NBC's Nancy Snyderman in September. On Tuesday, however, White House health care advisor Phil Shiliro denied the 7 million goal in an interview with MSNBC's Kristen Welker.
Nevertheless, HHS touted a December enrollment surge in a Sunday statement. "More than 1.1 million people enrolled in a qualified health plan via the Federally-facilitated Marketplace from October 1 to December 24, with more than 975,000 of those enrolling this month alone," Centers for Medicare & Medicaid Services Administrator Marilyn Tavenner wrote.
Tavenner announced that December enrollment was over seven times that of October and November, "because we met our marks on improving HealthCare.gov – the site supported 83,000 concurrent users on Dec. 23rd alone." She also predicted a steady increase in enrollment over the next three months, following the trend of other health care measures in Massachusetts and Medicare Part D.
Massachusetts, however, is among a handful of states reportedly withholding payment to contractors due to failing enrollment websites. Although the state first reformed its health insurance system in 2007, it teamed up with CGI, the company held responsible for the failures of HealthCare.gov, to create a new enrollment system from scratch. The state decided to set up "an entirely new online system to line up for the Affordable Care Act," Jason Lefferts, director of communications at the Massachusetts Commonwealth Health Connector, told The Christian Post in a prior interview.
"The problem is the complexity of the laws," Ed Haislmaier, senior research fellow for Health Policy Studies at the Heritage Foundation, told CP in December. Allegedly due to this complexity, Massachusetts and Vermont are both withholding payment to CGI, while Oregon is refusing to pay its contractor, Oracle.
The widespread loss of coverage, affecting at least 4.7 million Americans, directed attention to Obama's earlier promise that "if you like your health care plan, you can keep it." While the political fact-checking website PolitiFact confirmed this promise for many years, the site eventually acknowledged Obama's promise was a lie and ranked it the "Lie of the Year" for 2013.