Ohio Air Show Crash: Video Shocks Viewers - 2 Dead in Big Explosion Following Plane Crash (PHOTO)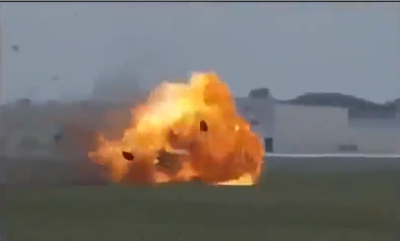 An Ohio air show crash has killed two people on Saturday, shocking hundreds of viewers at the event, according to reports.
According to reports, a wing walker was performing on a Stearman biplane as part of the air show events. However, the biplane plunged to the ground shocking onlookers, according to FAA spokesman Lynn Lunsford.
The plane crashed and burst into flames following an explosion on the grass area between the two runways at the Vectren Dayton Air Show, Lunsford explained.
The air show released an official statement on its website following the tragic incident. It confirmed the crash as being fatal, and said that officials believe that the two performers involved in crash had died. Now one else was injured in the accident.
Various reports have suggested that the registered owner of the plane was Jane Wicker, who was well known in the stunt show community. A Facebook posting confirmed her death on her social media page.
The Jane Wicker Airshows Facebook page said, "It is with sad hearts that we announce that Jane Wicker was killed while performing at the Vectren Dayton Airshow. We ask for your prayers for the families and privacy of all involved and allow them time to grieve and work through these events."
The FAA and the National Transportation Safety Board have launched an investigation into the crash.
The air show also confirmed that all other performances at the show on Saturday were canceled following the crash. The air show is, however, scheduled to continue on Sunday.
Here is a video of the horrific air crash at the Ohio air show. WARNING - Plane crash footage is shown; do not watch if likely to be offended:
Horrifying Plane Crash at Dayton Air Show, 2 Dead in Ohio. 22 June 2013