Ohio City Mulls Transgender Bathroom Ordinance; Opponent Calls Amendment 'Absurd'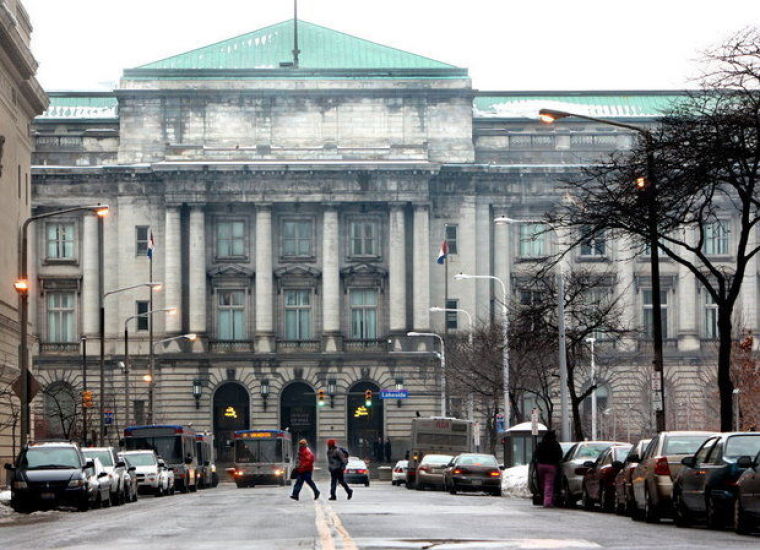 A major Ohio city is mulling an amendment to its city ordinance that critics say will allow transgendered men to use women's restrooms.
Cleveland City Council held a meeting Wednesday wherein a committee heard arguments for and against an ordinance prohibiting businesses from barring transgender people access to restrooms or facilities that correspond with their gender identity.
The City Council meeting was crowded, reportedly one of the most well attended in recent memory, and featured testimony from a diverse group of people, noted Tom Beres of WKYC.
Phil Burress, president of the conservative Cincinnati-based group Citizens for Community Values, told The Christian Post that he considered the ordinance "absurd."
"I can't think of another word to describe allowing men to go into women's restrooms. Its nothing more than absurd," said Burress of CCV.
"I have no idea what they're thinking about because transgenderism, to the extent that I've read, is a mental illness. It's a mental disorder. And to allow someone with a mental disorder to walk into and use women's restrooms even though they are a man and they are confused is a violation of the rights of all women."
Introduced by City Councilman Joe Cimperman of Ward 3, Ordinance No. 1446-13 sought to amend Sections 667.01 and 663.04 of the Codified Ordinances of Cleveland regarding antidiscrimination measures.
The ordinance added "sexual orientation" and "gender identity or expression" to the list of identity groups that "a place of public accommodation" cannot discriminate against, specifically regarding bathroom usage.
"It shall be an unlawful discriminatory practice … To refuse, deny, segregate, separate, discriminate, or make a distinction, directly or indirectly in any way, against any person in the full and equal use and enjoyment of the services, facilities, privileges, advantages or enforcement powers of the City, or any unit or office thereof, because of race, religion, color, sex, sexual orientation, gender identity or expression, national origin, age, disability, ethnic group, or Vietnam-era or disabled veteran status of such person," read the ordinance.
The proposed ordinance did allow for exemptions, including "Any employer of less than four (4) persons", "Any religious organization or institute whose membership or service is limited to persons of a single religious faith", "Any institution organized for educational purposes that is operated, supervised, or controlled by such a religious association, corporation, or society", "Any private organization having a purely social or fraternal purpose", and "Any type of employment where religion, religious creed or nationality would usually and normally be considered an essential qualification of employment."
Violation of any of the provisions can be punished with thirty days to three months in prison or a fine of not less than $1,000, or both.
While some argued that the ordinance allowed for any gender to access any bathroom, others countered that this was not the intention of the measure.
Carlos Maza of the liberal group Media Matters for America, wrote Monday that "nothing about the ordinance calls for unbridled access to public restrooms."
"The measure – which mirrors measures already adopted in many parts of the country – prohibits businesses from denying access to restrooms or other facilities based on a customer's 'gender identity or expression'," continued Maza.