Ohio Grocery Store Pulls 'Sweet Baby Jesus' Beer From Store Shelves Amid Complaints Over Name Describing Chocolate-Peanut Butter Brew
Ohio Grocery Store Pulls 'Sweet Baby Jesus' Beer From Store Shelves Amid Complaints Over Name Describing Chocolate-Peanut Butter Brew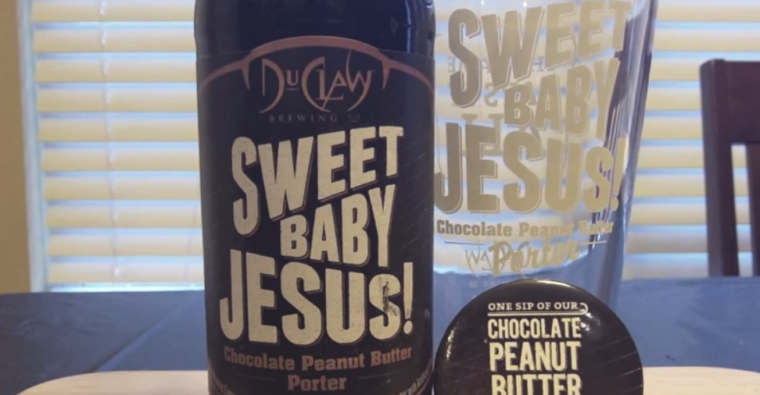 An Ohio-based grocery store chain has decided to pull a beer named "Sweet Baby Jesus" off the shelves amid customers' complaints and has no plans to restock the brew.
Heinen's Grocery Store, which has locations in Ohio and Illinois, made the decision earlier this month and has not commented further on the matter.
"A rep at Heinen's confirmed the beer was pulled, but Marketing Director Kathryn Falls said it was a non issue and the store had no comment," reported Marc Bona of Cleveland.com.
Released in 2013 and brewed by the Rosedale, Maryland-based DuClaw Brewing Company, Sweet Baby Jesus combines the flavoring of chocolate and peanut butter.
According to the Baltimore Business Journal, Sweet Baby Jesus was introduced to Ohio in April and is DuClaw's most popular beer, accounting for as much as 40 percent of their sales.
"The name Sweet Baby Jesus was chosen after a test batch tasting of the winning recipe of a home brew contest held by DuClaw," reported the BBJ.
"Another name had been tentatively assigned — [DuClaw founder Dave Benfield] couldn't remember the test name — but the brewmaster didn't think it fully captured the consumers' reactions at first taste."
Heinen's has taken flack for its decision, with negative comments being posted on its Facebook page over the past week.
In an interview with The Christian Post, Benfield explained that the product and its name were never meant to be offensive.
"While we understand that some people may not be happy about the name, it's never our intention to upset or offend — our focus is making great beer that people enjoy," said Benfield.
"Just wondering, since you are folding to some ridiculous people and pulling Sweet Jesus Beer, I want to know if you are also pulling Devils Food Cake and Angel Food Cake?" posted one person.
"I won't know since I have now decided not to shop at your stores. Really, pulling something with the name of 'Jesus' from the shelves? You must make sure to tell you priest or reverend or who ever you pray with! I will make sure that I spread the 'Good' word."
Regarding the decision by Heinen's, Benfield told CP that he respected their choice and intended to continue doing business with the grocery store company.
"We understand that Heinen's needs to do what they think is right; we take no offense and love the chain," said Benfield.
"Overall, we do not think the decision is reflective of the very positive response we've gotten in Ohio, where we've been welcomed with open arms."
The Christian Post reached out to Heinen's Grocery Store, but did not a receive a response by press time.