Ohio Valedictorian Leads Lord's Prayer With Graduates Defying Atheist Group's Lawsuit Threat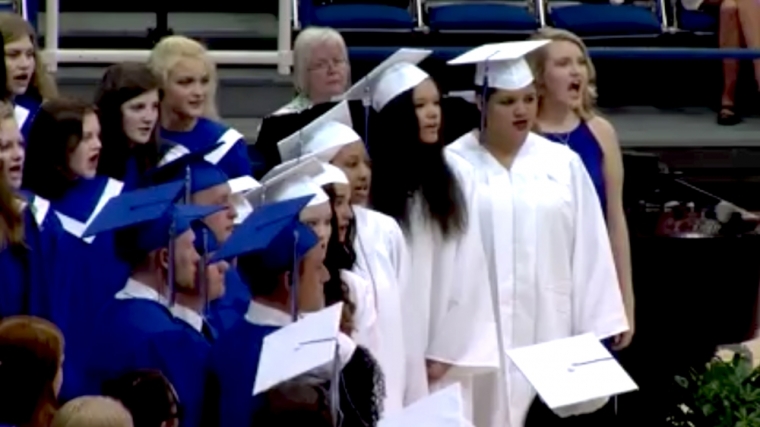 East Liverpool High School was forced by an atheist group to turn away from its 70-year-old tradition of singing the Lord's Prayer at graduation, but the valedictorian chose to lead the class in a recitation of the Christian prayer during the ceremony.
This year's graduating class was told by the school that the recital of the Lord's Prayer had been removed from the program due to a complaint from the nation's largest atheist organization, the Wisconsin-based Freedom from Religion Foundation, to East Liverpool's school administrators who didn't want to fight a legal battle.
Class Valedictorian Jonathan Montgomery, however, took the stage and led the entire class in reciting the prayer at the graduation ceremony, local news station KFOR.com reports.
The students' decision to recite the prayer led to a roar of applause from the stands.
"We're really big at traditions at this school and I think it would've been nice to have the same as my brother had whenever he graduated," Student Vice President Cami Post was quoted as saying.
"We said, 'Okay, we just won't do it anymore.' It was a decision made because we don't have a lot of money and we'd rather hire teachers than pay lawyers," School Board President Larry Walton was quoted as saying.
After the East Liverpool School District decided earlier this month to remove the Lord's Prayer from their graduation ceremony, the choir director made an emotional plea.
"I really don't want to get upset so forgive me for getting emotional," Lisa Ensinger, the high school choir director for 18 years, told the East Liverpool Board of Education, according to wfmj.com. "As a person of faith it means a great deal to me as you know, but as an educator I see this as an opening to a very broad door that can cause great detriment to our music education program."
Board President Larry Walton was quoted as saying, "When I was first on this board I expressed a concern about us singing. The comment made was that 'we know we are breaking the law, we will do it until we get caught.' Well, ladies and gentlemen we got caught. … I'm sorry this happened, but it's a war we can't win."
FFRF says on its website that public schools exist to educate, "not to proselytize."
"Children in public schools are a captive audience. Making prayer an official part of the school day is coercive and invasive. What 5, 8, or 10-year-old could view prayers recited as part of class routine as 'voluntary'? Religion is private, and schools are public, so it is appropriate that the two should not mix. To introduce religion in our public schools builds walls between children who may not have been aware of religious differences before."
It adds, "Some Americans believe in the power of prayer; others believe nothing fails like prayer. Some citizens say prayer makes them feel better, but others contend that prayer is counterproductive to personal responsibility. Such a diversity of views is constitutionally protected; our secular government simply is not permitted to pick a side in religious debates."