Once Condemned as Evil, Pokémon Go Now Sending Lots of People to Church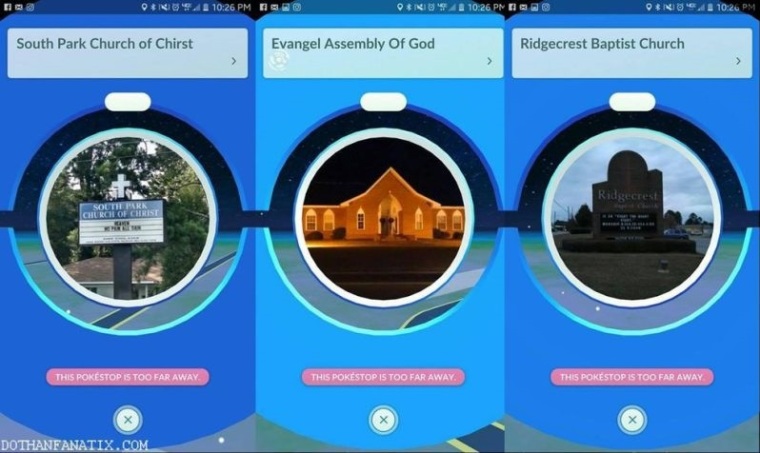 Pokémon Go, the popular new augmented reality game app from the Pokemon media franchise that some Christian churches once condemned as evil, is surprisingly now sending many players of the game to local churches, and in some cases, they are being welcomed with open arms.
Reddit user Fanatix_phil first highlighted the trend in a thread last Thursday, just a day after the app was released, with a meme highlighting three churches in the game tagged as Pokéstops.
"Decades ago churches condemned Pokemon as being satanic and evil for children. Now that we're grown we're finally going back to those very churches to tell them we turned out OK and also to stock up on supplies," a message on the meme noted.
Pokéstops are basically free item drops placed around the world. They are mostly stationed at important cultural spots, such as statues, public buildings, and other locations like churches.
Church properties are also being used as gym locations as part of the game. In Pokémon Go, a gym is where players, known as trainers in the game, gather to battle against each other. Trainers join one of three teams at an early stage of the game, and those teams fight for control of the gyms. If a team controls a gym, that team gets perks and bragging rights at the location. Gyms are also usually located in public places.
Workers at Griffith First Christian Church in Indiana first noticed an increased number of persons popping up at the church glued to their cell phones before they realized that the church was a part of the game. Since summer is now in full swing, and the players appeared to be spending a lot of time in the heat, Joanne Adamoski told The Christian Post on Tuesday that the church decided to offer the players water and the Gospel if they were open to it.
"We just found out that they have three gyms, I guess they are at our property so because it's hot right now they just put out a cooler of water and they advertised it on Facebook," Adamoski said of the church's response to the players.
"I don't know who does that, I don't know who's in charge of where they place these. You see people walking around with cell phones, driving by… So we just offer them water," she said.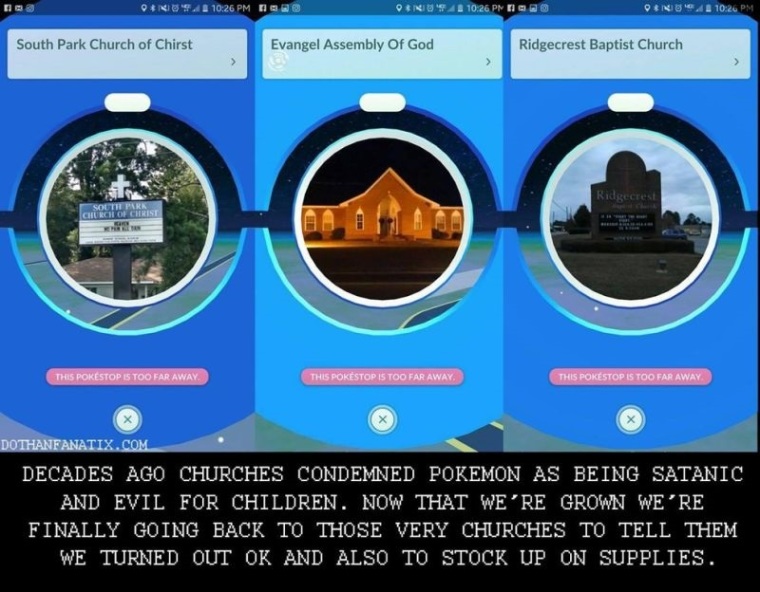 "If we are able to, (we talk to them about the Gospel) if they pursue it at all. We're not doing it as any kind of high pressure. No tricks. It's just hot, 'how about a drink?' It's like a good service thing to do," Adamoski added.
A message posted to the church's Facebook page with photos of the cooler with a message inviting the players to drink freely said in part: "It's time to love people in Jesus name. From the biggest to the smallest things to everything in between... We MUST love people no matter what. As we see several kids (and adults!) come to our property in the coming days and weeks (as we are one of the most popular spots in Griffith with 3 destinations here alone), this is a great opportunity to show a no strings attached kind of love. Stay hydrated, and happy playing!"
One player, Kathleen Renee, responded to the church with: "Thank you so much. My friends and I were in need of a drink by the time we biked there and thought it was amazing! Thank you!!"
Some players, however, took to social media to joke about their experience with having to go to church as a part of the game.
"My first two pokestops on Pokemon Go were at a church and thought God was telling me something. Then my 3rd was KFC and I knew he was right," wrote Jared Smith on Twitter.
"I need Pokéballs for #PokemonGO, and the church next door is a Poké Stop, but a funeral is going on #decisionsdecisions #gottacatchemall," wrote Jack Williams.

Commenters on the Reddit thread, including some who claimed to be Christian ministry workers, were quick to note that not all churches were against Pokémon.
"As someone in ministry, it was the super strict churches that hated Pokemon. My parents let me have cards, watch the shows and do everything. My church didn't care. My church also didn't care about Harry Potter," wrote timberflynn.
"Same, though that wasn't the case for all the members themselves. A friend of mine wasn't allowed to have anything to do with Pokemon… and the old members of the congregation threw a huge fit when the youth pastor's wife (who sang in the band) had the gall to where sandals. I think it was less to do with the church itself and more to do with people wanting to force their own beliefs on others, which is a shame. It just turns people off of religion," added TheMrBoot.
While Pokémon Go has become an overnight sensation in the U.S., authorities highlighted in a Reuters report noted that the gaming app has played a role in armed robberies in Missouri, the discovery of a body in Wyoming and minor injuries to distracted fans.
"When you're involved in a game and not paying attention to what's going on around you, your situational awareness can go down," Greensboro, North Carolina police officer Ben Wingfield noted in the report.
"We encourage all people playing Pokemon Go to be aware of their surroundings and to play with friends when going to new or unfamiliar places," Pokemon Company International and Niantic told Reuters in an emailed statement.