One Nation One Day Campaign Enlists Honduran Government in 'Historic' Mission
Dominic Russo of Missions.Me Talks With CP About Historic Missions Trip Planned for Honduras
2 photos
(Photo: Matt Sheehan)
A young U.S. missionary has persuaded the Honduran government to allow 2,000 Christians to converge on the Central American country for one week to preach the Gospel, provide medical aid and potentially affect life-long change as part of a One Nation One Day campaign targeting what has become the world's deadliest country.
"We have almost 1,600 people already signed up to come with us to Honduras July 13-21. We have already shipped 10 containers of aid and we're gathering eight more. We have 18 different ministries sponsoring 18 different outreaches in the capital cities on July 20," explained Dominic Russo, the 29-year-old missionary organizing the event through his nonprofit Missions.Me network, which he leads with Jedidiah Thurner and and Gabe Bahlhorn.
"The momentum is enormous. We're going to be broadcast live in Honduras on the government channel. We're going to be on every radio station in Honduras and broadcast hopefully across the world with a couple of different Christian networks. The momentum is unbelievable and the vision is that all of Honduras will be changed and impacted in one day," he added.
Honduras, crippled by a poor economy and violent crime, is a nation in need of change. The republic, bordered by Guatemala, El Salvador and Nicaragua, is home to about 8.3 million people, most of whom are said to be Roman Catholic with Protestants making up three percent of the population. In addition to being plagued by violent, mostly gang-related crime, the Honduran people are cited as living in the second poorest country in Central America due to unequal distribution of income, severe underemployment and the nation's internal and external debts.
Perhaps that is why President Porfirio Lobo Sosa has welcomed with open arms Russo's One Nation One Day campaign that will see 2,000 volunteers, 18 containers of food and supplies, and evangelistic events reach every public school in Honduras's 18 major states.
"I believe that President Lobo wants to see the challenges that the country faces overcome. I believe he wants to see healing, unity and peace. He wants to bridge the divide that currently exists," Russo told The Christian Post.
"I think he's also a wise man and wants to open his arms to international investment. Having business leaders and students and ministry leaders all coming and focusing on his nation in one campaign, could only bring benefit to Honduras," he added.
Inspired by a line from the Bible's Isaiah 66:8 that reads "Can a country be born in a day or a nation be brought forth in a moment?" Russo has organized the One Nation One Day missions campaign to take place during the third week of July. The mission is believed to be the first of its kind due to its stated goal of targeting an entire country with a record number of volunteers that include medical professionals, ministry leaders, students, and others.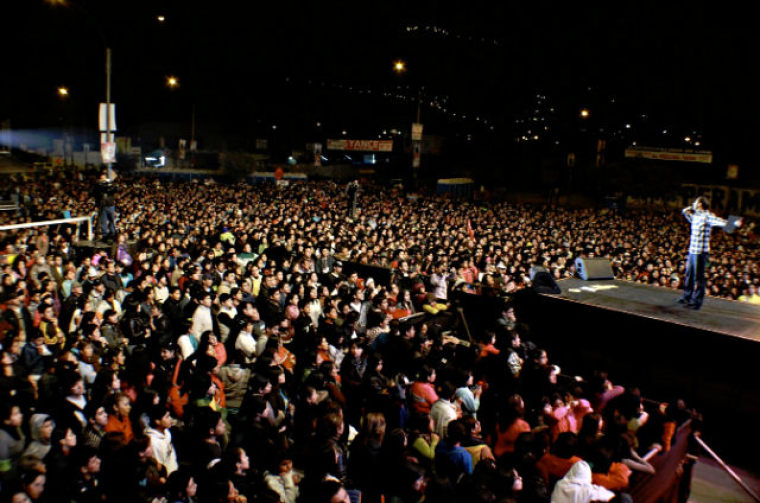 Russo asked in a 2011 meeting with President Lobo Sosa that the government do five things to make this mission dream a reality. Among those requests, all fulfilled, were for the Honduran Congress to pass a bill declaring One Nation One Day an official national holiday; for the government to facilitate the movement of 18 containers of aid, books, medical equipment and food through the country's borders; and to allow organizers to use the 18 largest stadiums and venues in the country's 18 capital cities to gather residents on Saturday, July 20, for a historic, nationwide meeting.
Russo, who has no doubt that One Nation One Day will individually impact every single Honduran, says the ultimate goal of the campaign "is to create a moment where the entire nation can make this declaration that they're coming into peace with God and peace with one another."
A vital part of the mission is with what happens afterward. According to the campaign website, 30,000 local Honduran pastors will have the responsibility of ensuring "lasting impact and sustainable discipleship," and One Nation One Day plans to give them the tools and training for that as well.
Ministries sponsoring and participating in the One Nation One Day week-long campaign total about 80 from across the U.S., and several prominent Christians leaders, such as John Bevere, Kari Jobe and Dr. Myles Munroe, have signed on to speak, teach and perform.
Russo, whose wife Lindsay leads efforts in establishing rescue orphanages across India with the Angel House ministry, was clear that One Nation One Day volunteers will not descend on Honduras as Americans, but as servants of the people. He also told CP that he believes it is especially vital for the younger generations to get on the front lines in the mission field, although all Christians have been called on by Christ to proclaim the Gospel. Russo has shared in a book titled Do Not Say, I Am Too Young how he felt God call him at the age of 20 to engage in missions. Since then, his Missions.Me platform has organized dozens of outreach campaigns across Latin America, the Caribbean and South Asia.
Russo told CP he finds that everywhere he goes, people are seeking peace with God, which he said can only be achieved through Jesus Christ. Also, especially in developing nations, he finds that "the physical needs are the most pressing – food, clean water, medical care, employment opportunities."
He added, however, "I've never left a country and felt like we did everything we could do. It's something that I live with constantly. Having seen the profound needs of the world, and knowing what people are living with everyday, it is ... I've had to force myself to focus on the things that we have been able to do and keep reaching and hoping that we can do more."
The young minister, who also serves at his father's Oakland Church in Michigan, invites students, families, pastors, business leaders and medical professionals to join the One Nation One Day campaign to "embrace a nation and love on a nation" for eight days.
"We're definitely looking to the future and hoping that this will become a model for impacting other nations strategically, where all these nonprofits and missions organizations won't be independently working, but instead all focused together at one place at one time to make the most change," said Russo.
More information about the Honduran mission initiative can be found at www.1nation1day.com.