Only 1 Year Old When Sandy Hit, New Jersey Church Rebuilds 100 Homes, Distributes $3 Million of Supplies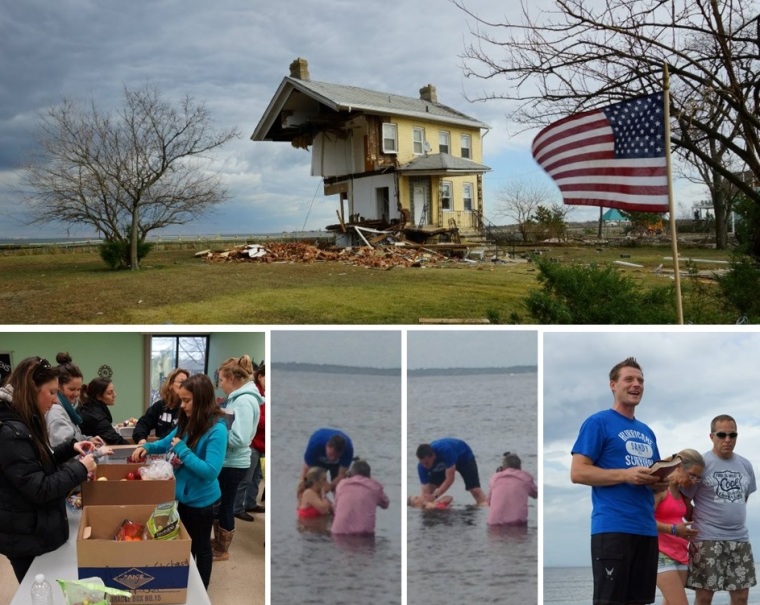 In September 2012, Gateway Church of Christ had just celebrated its first birthday. Originally five families, the now 50 person church was eager to continue fulfilling its mission by establishing a stronger presence in their Morganville, New Jersey community.
Their opportunity came a little more than a month later when Superstorm Sandy battered the New Jersey and New York coastlines, downing power lines, uprooting trees, and flooding hundreds of homes and businesses.
Five miles away from Gateway, Union Beach, a small coastal town, received the storm's absolute wrath. Ninety percent of the town - 2,600 people on two square miles of beachfront - had been submerged in the water. Two thousand of Union Beach's 2,500 homes were damaged and another 175 totally washed away. The town also lacked the financial capital that many of Jersey's other cities held, as the majority of Union Beach's population was working class.
Gateway Church's Lead Evangelist, Carl Williamson, said that his and his wife Alicia's first response after the storm hit was to consult God about how to assist victims.
"My wife and I, literally the day after the storm, got down on our knees and prayed and we said, 'God, if there's some way that you want us to help in this situation, please go ahead,'" Williamson told The Christian Post.
It did not take long for a response to their prayer.
"It was that afternoon that found out we had supplies coming. We found out that day where we were going to send those supplies to. And the next day, we went to Union Beach and said 'Where are these supplies going to go?' And the third day… we brought in the first supplies into Union Beach," said Williamson.
Under Williamson's direction, Gateway Church's staff and members have became consumed with Sandy relief efforts in Union Beach.
Soon after the storm, Churches of Christ Disaster Relief, used the church's manpower to ensure that its $1.5 million worth of supplies were distributed. Because of the organization's priority on spreading the Gospel, it insisted that Gateway Church members be on hand throughout the entire donation process. As a result, Williamson spent long hours at Union Beach, along the way, building the trust and rapport of community members.
To date, Gateway Church has given out over $3 million of supplies and rebuilt 100 homes. Through a workforce development grant, it currently employs 24 community members to lead recovery efforts, many of whom had lost their jobs because of the storm or who had financially struggled prior.
Gateway Church members have also had the opportunity to spiritually engage fellow community members, like Bob and Pamela Vasquez, "who were complete atheists" prior to Sandy. The couple was forced to swim out of their home when the ocean rolled in.
Although the Vasquez's home was completely destroyed, "God literally brought them out of the hurricane and over time they became Christians and believers in God," said Williamson, who baptized them in June.
Much of the physical rebuilding has been accomplished by the 17,000 volunteers that Gateway Church hosted over the year, the majority in the summer. But since the start of fall, it has been challenging for the church to locate more workers.
"Volunteers bring in excitement and hope to the community," said Williamson, who said the drop-off of new people has also led to a current sense of "hopelessness" in Union Beach.
Realizing that it may be difficult for volunteers from out-of-state to travel to Jersey at this time of year, Williamson called on residents of the state to step up.
"We've been reaching out to New Jersey churches and residents, saying, '95 percent of our volunteers this summer were out-of-state.We should be having the opposite'," he said.
Williamson said that Gateway Church also needs a boost financially, noting that the church's lack of track record in the relief sector had been a barrier in convincing organizations to give funds.
Earlier this week, New Jersey First Lady, Mary Pat Christie announced that the Hurricane Sandy New Jersey Relief Fund would be donating $350,000 to Gateway, six times the amount it had received from the foundation earlier this year.
"I had all of their board members come in a couple months ago and I showed them everything that we were doing. And we had done more than any other organization that they had supported. And all they had given us was $50,000," said Williamson.
Williamson credited the church's youth and lack of programming as one of the reasons why it had been able to fully devote itself to Sandy.
"Honestly, if I would have planned this it never would have happened," said Williamson, adding that the storm "just became part of who we were. The dynamic of this church plant is that it's a Sandy relief organization as well."
Anyone interested in donating time or money can visit the Gateway Church of Christ's website here. Natalie Grant is also donating all proceeds from the purchases of her new album bought from her personal website through October 31.