Oprah Draws Ire of Atheists for Telling Swimmer Diana Nyad She's Not an Atheist Because She Believes in 'Awe' and 'Wonder'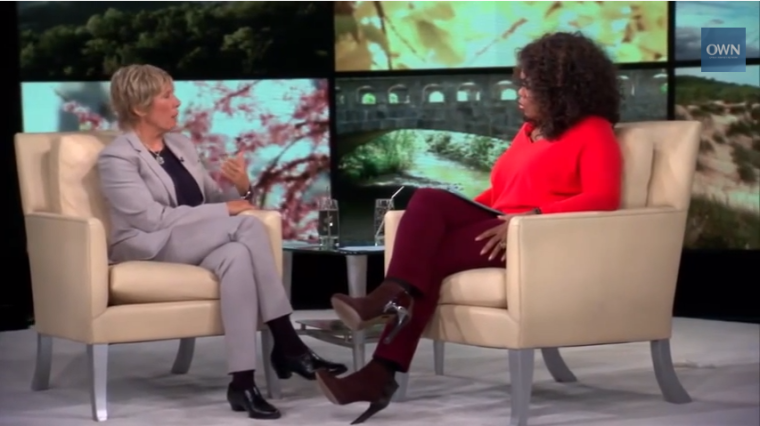 Billionaire media mogul Oprah Winfrey has drawn the ire of unbelievers online for telling atheist swimmer Diana Nyad that if she believes in "awe" and "wonder" she wouldn't call her an atheist.
Nyad, 64, who made history last month by becoming the first person to swim 110 miles from Cuba to Florida without a shark cage, declared in a conversation with Winfrey on Oprah Winfrey Network's "Super Soul Sunday" program that she is an atheist and "a person who is deeply in awe."
Oprah, however found it difficult to reconcile Nyad's position.
"I can stand at the beach's edge with the most devout Christian, Jew, Buddhist, go on down the line, and weep with the beauty of this universe and be moved by all of humanity — all the billions of people who have lived before us, who have loved and hurt," said Nyad in the conversation. "So to me, my definition of God is humanity and is the love of humanity."
"Well, I don't call you an atheist then," Winfrey responded. "I think if you believe in the awe and the wonder and the mystery that that is what God is. That is what God is. It's not a bearded guy in the sky."
"It's not bearded but I guess there is inference with God that there is presence, there is a — either a creator or an overseer," Nyad explained. "I don't criticize anybody. Because you know what? The definition of life is, we will never know."
"Until that last breath," Winfrey interjected during Nyad's explanation "and maybe it's an 'oh wow one' for you as it was for Steve Jobs."
"I should be like 'whoa! I should have been praying. All these years and I'm going the wrong way," Nyad quipped as Winfrey laughed.
Nyad further explained that she felt people could be atheists and spiritual at the same time.
"I think you can be an atheist who doesn't believe in an overarching being who created all of this and sees over it," said Nyad. "But there's spirituality because we human beings, and we animals, and maybe even we plants, but certainly the ocean and the moon and the stars, we all live with something that is cherished and we feel the treasure of it."
The clip of the conversation on YouTube has been viewed more than 20,000 times since it was posted on Sunday and many viewers have mocked Winfrey for questioning Nyad's atheism.
"Poor Oprah can't conceive of someone who doesn't believe in a deity. Her brain can't handle it, so she deflects and assumes her guest is a weak theist. Sorry Oprah, get a clue," wrote Seamus Ruah.
"Wow, for someone who has interviewed so many different people and seen so much of the world, I can't believe how misguided and closed minded Oprah is on this issue. So much respect to Diana Nyad; I love seeing fellow atheists discussing their beliefs calmly, and without trying to change a religious person's mind. Everyone is entitled to their own beliefs," noted Andie Dodd.
"An atheist experiences awe in a way no person of religion ever can. Religious people say 'God made me.' End of story. An atheist is amazed that in the millions of planets in the Milky Way and the millions of planets found in every one of the billions of galaxies, we are here... NOW. That is awe. We don't need silly superstitious stories to feel that way. To claim so is ignorant and pious. Who else can't feel awe? Muslims? Jews? Buddhists? Anyone who doesn't believe in your 'God?'" wrote Justin in Bangor.