Oprah Winfrey Previews Joel Osteen's Appearance on 'Next Chapter' (VIDEO)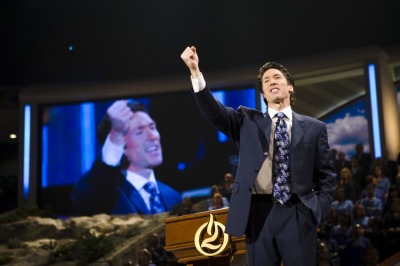 Oprah Winfrey's "Next Chapter," a weekly series that premiered Jan. 1, will feature America's most "influential spiritual leader," Joel Osteen, in a tell-all interview discussing faith, marriage, power, and ego.
The episode will air Sunday, Jan. 8 at 9 p.m. ET on Winfrey's cable TV channel OWN. The teaser for "Oprah's Next Chapter" shows the talk show queen asking Osteen hard-hitting questions, including those about "keeping his ego in check" and the "money" that allows the megachurch leader to live the lifestyle he currently has.
Osteen, senior pastor of Lakewood Church in Houston, Texas, gives viewers behind-the-scene access to his life, his wife Victoria, and his critics.
A first look at the upcoming episode was released Wednesday and can be seen in the video below.
Winfrey's "Next Chapter" saw her return to television, after ending her 25-year run with "The Oprah Winfrey Show" in May 2011. The first "Chapter" featuring Aerosmith frontman Steven Tyler garnered an average total of 1.1 million viewers for its two Sunday showings, according to Nielsen ratings.
"After 25 years I got myself out of the studio chairs," Winfrey said in a statement.
"I moved into the next chapter, and I am having more fun than ever – moving around the country and the world talking to people I'm really interested in getting to know and I think viewers will be, too," she said.
The show's debut featured a two-hour interview with Tyler at his family home in New Hampshire. The episode explored the singer's drug addiction, love life, and newfound fame as an "American Idol" judge.
Following the Steven Tyler premiere, Winfrey tweeted: "Thank you all for joining me for launch of NEXT CHAPTER. I so appreciate your support. More great insights to share every Sunday nite [sic]. Love."
OWN executives revealed that the premiere was the highest-rated Sunday premiere for the channel, despite a significantly lower viewership compared to "The Oprah Winfrey Show," which typically had an audience of 6 to 8 million viewers.
During her visit to Houston to tape her discussion with Osteen, Winfrey visited Lakewood Church along with filmmaker Tyler Perry, as seen below: 
Oprah Winfrey Makes Surprise Visit to Osteen's Lakewood Church