Oscar Pistorius Returns to Twitter With Biblical Messages of Pain, Healing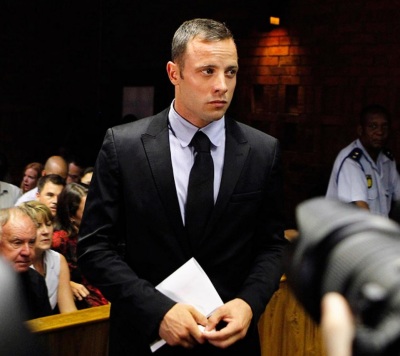 Paralympic athlete Oscar Pistorius has ended his Twitter hiatus by posting multiple religious-themed messages on the social media platform this week, shortly before his highly-publicized murder trial reaches its conclusion in August.
Pistorius, who is being charged with the 2013 murder of his girlfriend, Reeva Steenkamp, returned to Twitter Sunday after taking a five month hiatus from the social media platform. One of the tweets uploaded on Sunday was a reference to Psalm 34:18 that reads: "The Lord is close to the brokenhearted."
The South African sprinter then posted a collage of photographs that showed the Olympic athlete posing with young amputees, accompanied by the message: "You have the ability to make a difference in someones (sic) life."
On Monday, Pistorius posted another spiritual tweet that read: "Lord, today I ask that you bathe those who live in pain in the river of your healing. Amen."
The last time Pistorius used Twitter was on Feb. 14, 2014, the one-year anniversary of his girlfriend's death. The athlete had posted a link to his website that revealed an open letter detailing the "pain and sadness" he felt after Steenkamp's death.
"The loss of Reeva and the complete trauma of that day, I will carry with me for the rest of my life," Pistorius wrote.
Pistorius, a double amputee who has earned the nickname "The Blade Runner" for his participation in international sprinting competitions, has been accused of murdering his girlfriend on Feb. 14, 2013. Pistorius killed Steenkamp when he fatally shot her three times while she was in the bathroom at their home in Pretoria. Although prosecutors allege Pistorius intentionally shot his girlfriend after a heated argument, the athlete has maintained his innocence, arguing that he mistook Steenkamf for an intruder when he shot her last year.
The Olympic athlete could face 25 years to life imprisonment if he is found guilty of Steenkamp's murder. He would face a shorter prison sentence if the South African court determines he killed his girlfriend without premeditation.
Pistorius' defense team recently closed their testimony in the murder trial, and now each side will give their closing arguments to Judge Thokozile Masipa on Aug. 8 and 9. The verdict may take another month to be determined.