8-Y-O Pakistani Christian Girl Beaten, Locked Up for Using 'Muslim Toilet'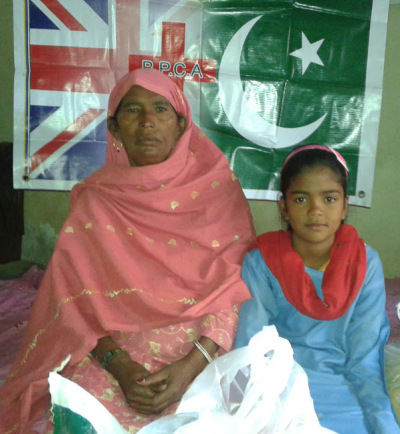 A Pakistani Christian family has been forced to flee from home and is now in hiding after the family's eight-year-old daughter was beaten and locked inside of her school's bathroom for hours after she allegedly used a toilet designated for Muslims.
The British Pakistani Christian Association, a London-based humanitarian organization, reports that Sara Bibi, the youngest of five siblings, was expelled from the Government's Girls School in Samundari area of the Punjab province after she was accused of using the same toilet that her Muslim classmates use.
While a common mentality displayed in the Pakistani Muslim community is that Christians are "unclean," Bibi's classmates accused her of "polluting" their toilet. After her classmates informed the school's headmistress, Zahida Rana, that Bibi used the Muslim toilet, Bibi was verbally scolded and abused by the headmistress.
"You are a Christian, an infidel," Rana reportedly shouted at Bibi. "How dare you use the same toilet as Muslim girls?"
Although Bibi pleaded her innocence, Rana beat up Bibi and locked her inside the washroom for over three hours until the end of the school day.
"Reports suggest the innocent girl was accused by other classmates who had been offended by the actions of a 'choora' Christian who had polluted their toilets, highlighting how the hatred towards Christians is cemented into young minds at a very nascent phase," the BPCA report explains. "This pariah status of Christians is prevalent in Pakistan."
Although Muhammad Afzal, a local police official, told the Tribune that his department has not received a complaint from the family and no action has yet been taken against the school or Rana, Bibi and her family have been forced into hiding after they received several threats that blasphemy allegations would be lodged against them.
As blasphemy allegations in Pakistan carry serious legal consequences and have led to mob violence and the extrajudicial killings of religious minorities, the family felt that it would be safer to relocate elsewhere.
BPCA officer Shamim Masih met with the family on Monday to see what kind of financial support they require for their relocation. BPCA has set up a funding campaign to help support the family and other Christians persecuted in Pakistan.
Additionally, BPCA established a petition calling for a Pakistani national education curriculum that does not demonize minorities.
"We are often asked why Christians are so illiterate with only seven percent attaining an adequate level of literacy. Where here you have a prime example of the bullying, harassment and violence young Christians face daily," BPCA president Wilson Chowdhry said in a statement. "This hatred is top down and throughout educational establishments and leaves Christians demoralised and subjugated."
"This alarming situation is exacerbated with a figure of 700 Christian girls abducted, raped and forced into Islamic marriage per year, the majority of whom are kidnapped after school after joining Muslim girls on a trip out," Chowdhry continued. "The national curriculum fuels the hatred towards minorities, by caricaturing and demonising minorities. Under such hostility what chance is there for minorities to educate their next generation?"
Although local police have yet to investigate the incident, Pakistani lawmakers have ordered investigations into Bibi's mistreatment at school. Pakistan Senate Chairman, Raza Rabbani, ordered an inquiry into the incident.
Raja Muhammad Zafarul, the leader of the Pakistan House of Parliament, was unhappy with what he read in an initial report on the incident. He ordered for the executive district officer to meet with Bibi and her family.