Church Bombing Survivor Is Now Helping Christians Persecuted in Pakistan Find Refuge in Australia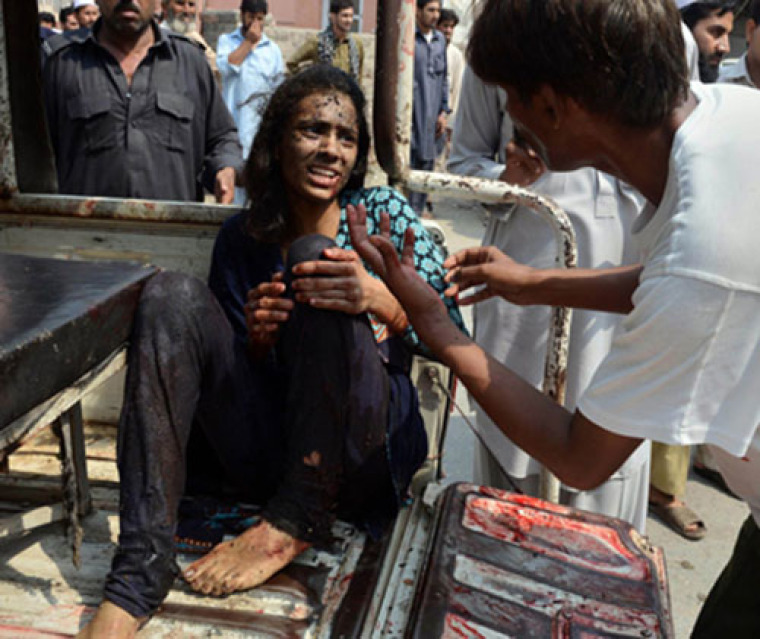 A young Pakistani Christian woman who lost her leg in a 2013 church bombing and is learning to live her life without her family in Australia is now trying to help persecuted Christians from her home country gain access to the refuge she has found.
In an interview with The Christian Post, 21-year-old Kashmala Munawar recalled the day her life changed forever. It was Sept. 22, 2013, when she was 17 years old. Twin suicide bombers killed 127 innocent people and injured over 250 others who were walking out of All Saints Church in Peshawar following a Sunday service.
"I was just putting on my slippers and suddenly this big explosion happened. I got blind for a few minutes and after that, I saw my mom and I saw the people. They were crying and they were bleeding. So I started to cry," Munawar told CP via WhatsApp. "One of my sisters, she was inside the church, she was telling me to get up. But I couldn't. I told her, 'I don't have strength in my legs.' She started to cry as well. Someone came and he was trying to pick me up to take me to the hospital. But he couldn't, so he called someone else and they took me to the hospital."
The injury to Munawar's right leg was so severe that gangrene formed in one of her toes about a week after the blast and she had to have her leg amputated below the knee.
"They cut half of my leg," she explained.
It wasn't until February of 2014 that Munawar received the opportunity to travel to Australia and receive a prosthetic leg that was paid for by the Melbourne-based nonprofit Children First Foundation.
"The thing was, I went to the biggest hospital [in Pakistan]. They took me there and doctors they can't fix my legs there. They don't have the facilities," she recalled. "But someone in the Pakistani community contacted the Pakistani community in Australia."
Munawar and her mother traveled to Melbourne so that she could receive a prosthetic leg and learn to walk again. After four months in Australia, Munawar's mother was pressured to return home and leave Munawar all by herself in a foreign land.
"I haven't seen my family since I came to Australia," Munawar told CP.
While she was learning to walk again, Munawar lived in farm house with other children sponsored by the charity. She explained that it took her about 10 to 11 months to learn how to walk again.
"There were other kids from other countries. Kids come from other countries to get treated if they can't get treated in their own country," she explained. "I don't know about now but when I was living there, it used to be kids come and go. Sometimes there are like maybe six kids, sometimes 11, sometimes 15."
In 2015, Munawar started going to school in Australia. She is now in her last year of high school and plans to attend university next year to pursue her interests in humanitarian work, social work and business administration.
Although she is looking forward to her life in Australia, Munawar would like nothing more than for her family members back in Pakistan to join her in Australia, as she continues to struggle with loneliness and getting used to life in that country.
Also she would love for her family to get out of Pakistan, which ranks as the fourth worst country in the world when it comes to Christian persecution, according to Open Doors USA's 2017 World Watch List.
"The Muslim people don't see us as human. Like, we are animals," Munawar said of the treatment of Christians in Pakistan. "We are just nothing to them."
"The best thing would be for my family to be here. I don't want much for myself but I want my family to be here," she continued. "Then, I will be more happier than I am now."
Munawar told CP that she recently applied for a visa for her mother with the Australian government. However, that application was denied.
"The thing was, they were like, she can't leave her underage daughters behind," Munawar said. "They were saying, 'We understand your daughter is disabled but thing is your can't just leave your 11-year-old and 16-year-old daughters and come to live with her."
Munawar isn't waiting until she starts college to begin doing humanitarian and social work. She is now working as a director for British Pakistani Christians (Australia), a new offshoot of the British Pakistani Christian Association that looks to support Pakistani Christians resettled in Australia.
The BPCA submitted an 'Approved Proposing Organisation' application on Sept. 28 to the Australian Community Support Programme. If accepted, the organization would be licensed by the government to support humanitarian arrivals in Australia throughout their resettlement process by connecting them with local churches and helping them find them housing, schooling and employment.