Palestinian TV Criticized for Using Young Girl to 'Promote Hate' Toward Christians, Jews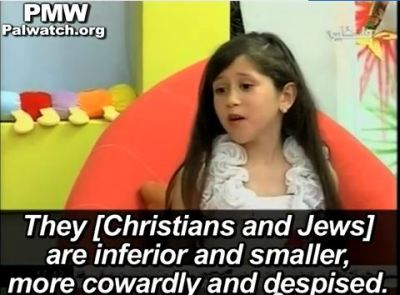 A Palestinian media watchdog has flagged a children's TV program it claims features a young girl reciting a poem in which she says that Jews and Christians are "cowardly and despised" and calls for Muslims to rise up against their enemies.
The English translations of the program, originally in Arabic, were provided by Palestinian Media Watch, which described the girl's poem as a "a hate poem" in a post on its website titled "PA children taught to hate Jews and Christians." PMW is an Israeli research institute that studies Palestinian society by monitoring its media and the messages it broadcasts.
"You are going to recite a poem which also teaches responsibility and belonging," explains the television show hostess on Palestinian Authority TV in a broadcast that was originally aired on May 11, 2012, but then was once again re-aired in June.
A young girl named Lara then begins reciting: "The occupier stole my land and my grandfather's land. Where is your sword, Khaled (Arab warrior)? Where is your courage, Saladin (Muslim conqueror)? But no one answered me. Where is my weapon? I found it – a stone. I took it and threw it at the enemies of destiny."
In another clip, the same girl is shown saying, "Our enemy, Zion, is Satan with a tail," with the hosts urging her on and cheering her poem.
PMW claims that Palestinian media, controlled by the state, often demonize the West and religions like Christianity and Judaism, and allegedly targets children from an early age, teaching them to hate and fight against "Palestine's enemies."
"PMW's many reports and studies on Palestinian summer camps, poetry, schoolbooks, crossword puzzles, religious ideology, women and mothers, children's music videos and the PA's indoctrination of adults and children to seek Shahada (Martyrdom), have had significant impact on the way the world sees the Palestinians," the organization says on its website.