Passion 2013 Donates Over $3 Million to Fight Human Trafficking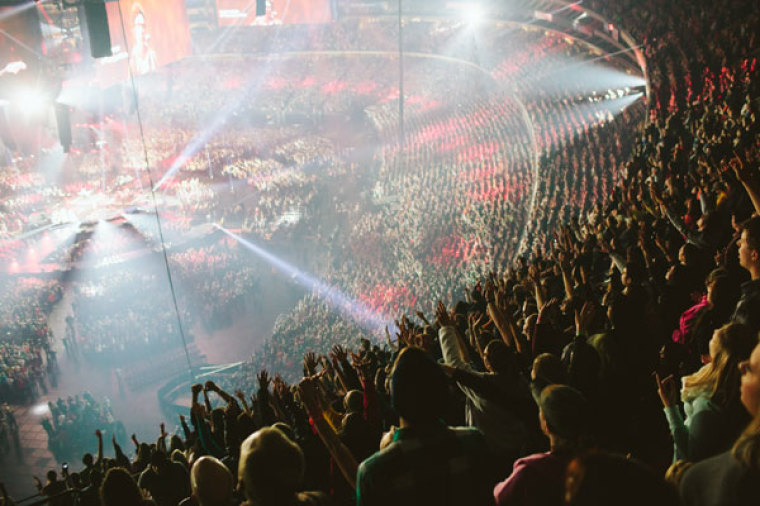 ATLANTA – The Passion 2013 conference, a four-day gathering of 60,000 university students, wrapped up last Friday with attendees donating over $3 million to fund the freedom fight for the 27 million human slaves currently trapped in the trenches of captivity.
Passion founder Louie Giglio and his wife, Shelley, shared an update on the "End It Movement" initiative to stop modern-day slavery and they expressed amazement at the students' generosity. "You guys are absolutely crazy people," Giglio said. "I don't know who counted you out, but they really underestimated the power of your generation."
In his closing message Friday morning, Giglio issued a charge for students to "live for Jesus and free the captive," exhorting them to take what happened in their hearts and inside the walls of the Georgia Dome and carry it into the world. "You would have to be clueless and utterly blind not to realize that this is all about Jesus," said Giglio. "Let our lives explode today for Jesus' sake."
Reaffirming his commitment to student ministry, the 54-year-old pastor of Passion City Church declared, "There is nothing in my schedule in the coming years – nothing in our lives – that will eclipse being a door-holder for your generation."
Giglio revisited the scripture passages from his opening talk, Ezekiel 36-37, and emphasized the importance of depending on the Holy Spirit's power when seeking to carry out one's God-given calling. "In our journey with God, He is always bringing us to a point where we stand on our feet and in His power," he said to what was the largest single Passion gathering in the movement's 18-year history. "There is no disconnect, no divide between God breathing us to life and launching us into mission. The moment God breathed life into you, you became a missionary, a representative, an ambassador, part of this army."
Christians' identity and message to the world should be clear and not confusing, Giglio said, and believers must authentically share their own struggles in an effort to identify with a wounded world. "Our message is, 'I was dead and now I am alive forevermore,'" he said. "Don't try to hide your scars because your scars are your story. Our witness to the world is that our wounds are being healed by Jesus."
Worship and justice go hand in hand, Giglio explained, an idea that had been emphasized throughout the gathering. "We believe in a life of worship, and worship is when we give God his breath back," he said. "It's not about us, but about one single legacy: God has made me an oak of righteousness, a planting of the Lord for the display of His splendor."
On the final night of Passion 2013, students had joined their individual candle lights together with one large beam shooting five miles into the sky in downtown Atlanta, and lifted a shout which would "touch Heaven and shake earth," Giglio said, describing the event. "60,000 people shouting at midnight was the sound of freedom coming. We need to take this collective horsepower to start movement across America and shine a light on slavery." The powerful visual display represented students' collective desire to expose slavery out of the belief that when darkness comes to light, people take action and lives are changed.
"We told the story of the 27 million people, 19 organizations, and 23 causes," said Bryson Vogeltanz, chief steward of Do Something Now for Passion Conferences. "When people who follow Jesus get together, something shifts and something tangible happens."
Students leaving the conference said they were encouraged by the vibrant atmosphere of worship and challenged to involve their peers in the fight to end slavery. "I had the most amazing experience of my life this week looking around the Georgia Dome seeing 120,000 hands lifted high praising the name of Jesus," said Jamie Jordan, 22, of Griffin, Ga., who recently graduated from the University of Georgia. "It was just a glimpse of what it will be like on the day when every knee bows and gives Him glory."
Garrett Stanley, 18, of Alpharetta, Ga., who is currently a freshman at Kennesaw State University, wasted no time encouraging fellow students to sign Passion's pledge to "shine a light on slavery" at www.enditmovement.com. "There are many different forms of slavery in this world, all of which need to be stopped," explained Stanley. "Do it for the little girls who are forced into sex trafficking and the little boys who are forced to dive off boats into the ocean to untangle fish nets. These boys and girls are slaves; they were made by God and we must do what we can to help."
Acknowledging that this year's unprecedented conference logistics amounted to a monumental task, Cheryl Bell, Passion's Director of Events, said the team faced many challenges but God was faithful to answer their prayers for joy, peace, and provision throughout the process. "We love to be put in the place where God has to carry us, where if He doesn't show up, it can't happen, and sometimes that leads to sowing in tears because it's so hard and you feel like you are on the front lines," she said. "Passion 2013 was the biggest thing we have ever done, but those days were also some of our most peaceful and when God begins something He always finishes it."