Pastor Carl Lentz Reacts to Kevin Durant Going to Golden State Warriors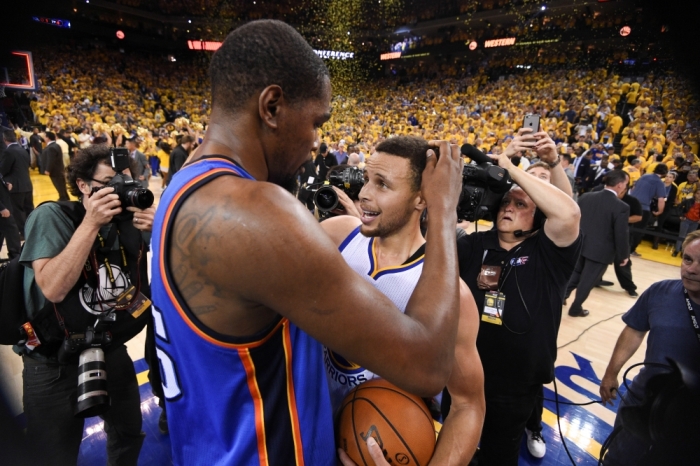 After Kevin Durant's free agency ended with him signing with the Golden State Warriors, the forward's Pastor, Carl Lentz, is sharing his thoughts about that decision.
Lentz, the senior pastor of Hillsong New York City and fervent NBA fan, has helped Durant on his spiritual journey for years and is supportive of the athlete's decision to start with a new team next season.
When one Twitter follower of Lentz asked about his "thoughts on KD to GSW," the preacher responded: "Amazing. Happy for him,"he tweetedbefore expressing his excitement about the changes in the NBA2K video game. "Most excited about GS in NBA2k.. @KDTrey5 SEND SHOES NOW."
In an interview with GQ magazine last year, the former Oklahoma City Thunder forward spoke about the Hillsong New York City pastor teaching him God was more about love than following a set of rules.
"I felt like I had to follow the Ten Commandments. But we don't live by that no more," the 27-year-old forward told GQ. "We live by the blood of Jesus. That's how I feel."
Durant was baptized in Hillsong NYC three years ago, and said he used to believe "if I do something wrong, I'm going to Hell."
Speaking at a Hillsong NYC service three years ago, Durant revealed why he wanted Lentz to guide him spiritually. Durant said he was drawn to Lentz because of the way he treated people and liked the fact that the pastor was unfazed by his celebrity.
"I thought you were weird first of all," Durant said while visiting Hillsong and speaking at the service in 2013. "Where I come from pastors are always in nice suits but you just dress like me. I really appreciate it …"
During the NBA playoffs in June, Lentz did not sit idly by while people joked about Durant's season ending defeat. Despite a 3-1 advantage in a best of seven playoff series, Durant's Oklahoma City Thunder failed to beat the Golden State Warriors who became the Western Conference champions.
While he has publicly enjoyed NBA games, Lentz made it clear that he did not appreciate the basketball analysis from people on social media.
"Reading Twitter basketball thoughts it's the equivalent to listening to bad late night Christian TV prophecy guys," the pastor tweeted.