Pastor Greg Laurie Urges Revival: 'We Have Forgotten God but He Has Not Forgotten Us'
At the National Day of Prayer event in Washington, D.C., on Thursday, Pastor Greg Laurie focused his prayer on asking for God's forgiveness and seeking a revival for America, noting that although "we have forgotten God, He has not forgotten us."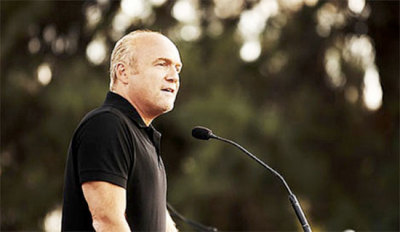 Laurie, who served as the honorary chairman for the National Day of Prayer Task Force, began Thursday's prayer at the Cannon House Office Building in Washington by thanking God for blessing America as a Christian nation for so many years.
The megachurch pastor then addressed what he believes to be the "trouble in our culture today."
"We see the breakdown of the family, crippling addictions, and random acts of horrific violence," Laurie, who is the senior pastor of Harvest Christian Fellowship in Riverside, Calif., told the crowd of politicians, diplomats, and fellow religious leaders gathered at the annual National Day of Prayer event.
The well-known pastor recently came under fire from LGBT activists who demanded that Laurie be removed from leading the National Day of Prayer events this week due to his biblical stance regarding homosexuality and same-sex marriage.
In response, Laurie clung to his Christian convictions in the face of criticism, telling those gathered at a smaller prayer event at the Family Research Council offices in Washington, D.C., on Wednesday: "I won't back down."
"They do not want me to pray. They describe me as 'homophobic' and so forth. How can you deal with such a situation? We're in a time in our country now where I'm attacked because I believe what the Bible teaches," Laurie said Wednesday.
"If people want to make it all about that, I'm not going to back down. In the immortal words of the great theologian Tom Petty, 'I won't back down,' I won't. I'm not going to apologize."
Keeping his commitment, the Southern California pastor joined fellow Christians in Washington to observe the 62nd annual prayer day.
"Lord, we need Your help in America," he said Thursday. "In recent days, we have done our best to remove Your Word and Your counsel from our courtrooms, classrooms and culture. It seems, as President Lincoln once said, that we have 'forgotten God.' But Lord, You have not forgotten us! You can bless and help and revive our country again.
"Lord, in Your mercy, we ask that You would exalt our country again. We have had a number of great awakenings in America. We have experienced times of refreshing, and revivals that changed not only the spiritual but also the moral landscape," the pastor continued, citing both Psalm 85 and Proverbs 14, which both speak on the redeeming benefits of a religious revival.
"That is our prayer for America today, Lord. Send a mighty spiritual awakening that will turn the hearts of men and women, boys and girls back to you. You have told us if we will humble ourselves and pray, and seek Your face and turn from our wicked ways, that You will forgive our sins and heal our land."
"Forgive us today, Lord, and heal this troubled land that we love so much," he added.
Several other prominent Christian leaders spoke at Thursday's National Day of Prayer event, including James Dobson, founder of the conservative values group Focus on the Family, and Senate Chaplain Barry Black.
Dobson, whose wife, Shirley, is the chair of the National Day of Prayer Task Force, spoke briefly on the importance of gratitude for the freedom so many Americans are able to enjoy thanks to the efforts of the country's founding fathers.
Chaplain Black, whose speech received a standing ovation, spoke on the importance of praying for all of God's people, saying "let us stop praying only for ourselves," and adding that all Christians must remember to give thanks daily for God's gifts to them.
The National Day of Prayer is a day of prayer and meditation designated by U.S. Congress and held annually on the first Thursday of May. People of all faiths are invited to pray for the nation.
Other notable speakers at the Washington prayer event included Vonette Bright, founder of Campus Crusade for Christ International, and Rear Adm. William D. Lee of the U.S. Coast Guard, among other prominent congressmen and religious leaders.
Our Father In Heaven