Pastor Makes Congregants Drink Deadly Rattex Poison to Show Their Faith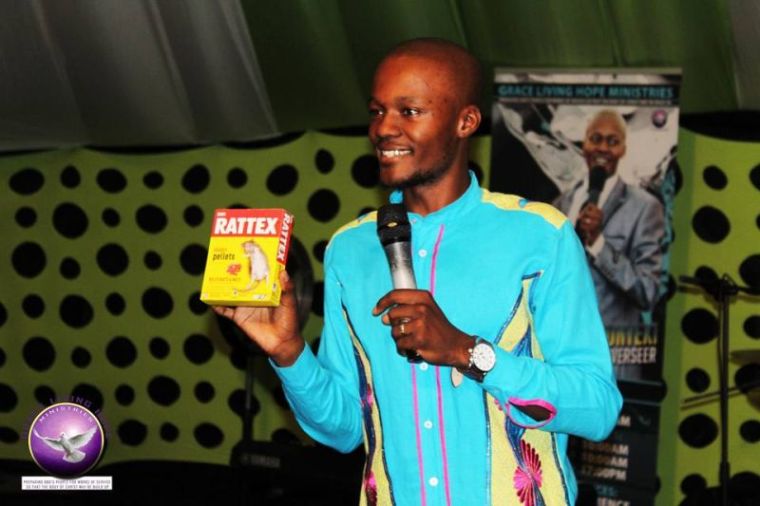 A South African pastor is causing a stir online for encouraging his congregants to drink deadly rat poison to "show forth their faith."
At a Christian conference held at Grace Living Hope Ministries, Pastor Light Monyeki fed faith-filled congregants rat poison mixed with water to reportedly nourish their bodies and heal the sick on Saturday.
"The man of God, Prophet Light Monyeki demonstrates power of faith by causing congregants to drink (sic) Rattax; deadly poison to show forth their faith. As he was doing that he said, 'we do not need to proclaim faith because we are believers. If (sic) nyope boys can smoke Rattax for more than eight years, who are we? Death has no power over us,'" the church noted in a Facebook post along with pictures of the pastor presenting the poison.
"Then he declared life from above upon the water mixed with Rattax; and spoke nourishment unto bodies and healing unto the sick. A multitude of congregants voluntarily ran to the front to have a drink of the deadly poison. After declaring nourishment and healing, Prophet Light was the first one to drink," the church added.
According to the Sowetan, Nyaope is a highly addictive drug made from a range of ingredients from low-grade heroin' dagga' rat poison and detergents containing chlorine and ammonia.
Many critics of the pastor, however, were not amused with Monyeki's public antics and challenged him to demonstrate the power of God more constructively.
"Go to hospitals and demonstrate the power of healing on people with strokes and people who are comatosed. Do not poison people and call it act of power. The Lord said His people will be misled for they lack knowledge, let us be careful of false prophets!" warned Matladi Tholo.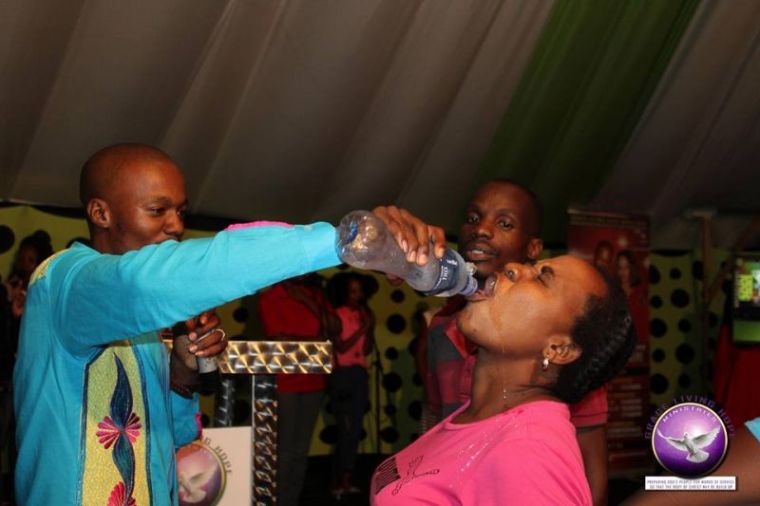 "Light, first of all you are not a prophet, at least not of the God in Heaven. You don't know what the word prophet means, you and all who are like you, the snakes, grass, doom, and whatever 'prophets.' All these things you are doing to the desperate people of God, you will give an account for. I pray that you repent and forsake your evil ways. You claim to be a prophet but you don't know that your time is limited here on Earth. Please confess and repent before it's too late for you. God cares about you more than He cares about anything else," added Khethewo Waha Sephuma.
It is unclear if this move by Monyeki is a publicity stunt but there is a history of pastors in the predominantly Christian country making unconventional requests of their congregations.
In 2014, the "miracle working" Pastor Lesego Daniel of Rabboni Centre Ministries in South Africa convinced members of his church to eat grass and those who followed his command claimed the grass gave them strength and healing.
That was then followed in 2015 by controversial young prophet Penuel Mnguni, who allegedly commanded a snake to turn into chocolate, then had his parishioners feast on the reptile as a show of their faith in God's power. He was later arrested for animal cruelty.