Pastor Mark Burns Brags About Mention in Trump Tape on Playboy Affair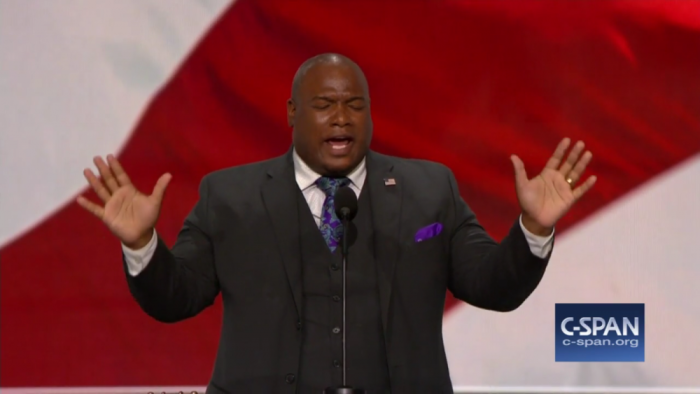 Pro-Trump Pastor Mark Burns has boasted about being mentioned in the newly released tape of then presidential nominee Donald Trump talking about handling a potential payoff to bury a media story about a Playboy model accusing him of adultery.
CNN aired an audio recording Tuesday of Trump and lawyer Michael Cohen from Sept. 2016 discussing the purchase of model Karen McDougal's story, claiming that the Republican nominee had an extramarital affair with her.
Pastor Mark Burns of Harvest Praise and Worship Center in Easley, South Carolina, who has been a strong supporter of the president, was mentioned by Trump in the tape.
Trump told Cohen, "your guy is a good guy."
After Cohen asked if Trump was referring to Pastor Darrell Scott, another Trump-supporting pastor, Trump asked, "can we use him anymore?"
Cohen then responded, "no, you're talking about Mark Burns."
"Mark Burns, are we using him?" Trump asked Cohen.
Cohen responded, "no, no."
Burns, who recently lost a Republican primary race to replace retiring Congressman Trey Gowdy, took to Twitter to express a sense of vindication over his involvement in the Trump campaign.
"I've been saying for almost 2 yrs some in the campaign tried to marginalize my role, in the closing days. This tape and the fact that I remained traveling with and speaking for the campaign after this conversation. is even more proof @realDonaldTrump remained in my corner. #maga," tweeted Burns.
Posted on Tuesday evening, by Wednesday afternoon Burns' tweet had gotten over 2,400 likes and more than 640 retweets, as well as several hundred comments.
CNN aired the audio recording on "Cuomo Prime Time," with the tape focusing on buying McDougal's story after the National Enquirer agreed to purchase it for publication.
"I need to open up a company for the transfer of all of that info regarding our friend David," said Cohen in the recording, most likely referring to American Media head David Pecker, according to CNN.
"When financing comes up again later in the conversation, Trump interrupts Cohen asking, 'What financing?' according to the recording," explained CNN.
"When Cohen tells Trump, 'We'll have to pay,' Trump is heard saying 'pay with cash' but the audio is muddled and it's unclear whether he suggests paying with cash or not paying. Cohen says, "no, no" but it is not clear what is said next."
The Reverend Franklin Graham, head of the Billy Graham Evangelistic Association, took to his official Facebook page to also comment on the tape.
An occasional Trump defender, Graham believed that the tape and the debate it is creating presented a good opportunity "to point out that everyone should realize that every word that is spoken is recorded by God."
"Not only does He know our words, but our thoughts and the intents of our hearts. Here's a sober warning from God's Word, 'What you have said in the dark will be heard in the daylight, and what you have whispered in the ear in the inner rooms will be proclaimed from the roofs' (Luke 12:3)," posted Graham on Wednesday.
"The Bible says it is appointed unto man once to die and then the judgment. We won't be judged by media spin masters or forensic audio analysts, but you will be judged by truth and righteousness—by God Himself."