Pastor Miles McPherson Responds to Shooting Death of San Diego Police Officer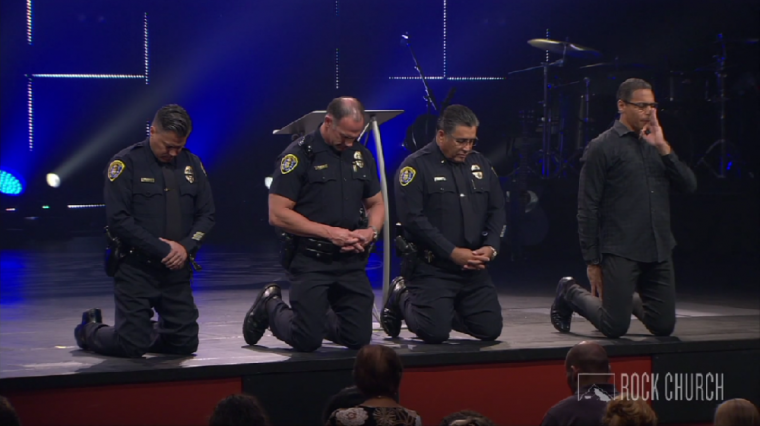 Miles McPherson, senior pastor of the Rock Church and Academy in San Diego, California, responded to the shooting in his city that killed one police officer and wounded another, saying there is a need for the community to stand together and not allow hatred and violence to "divide our city."
"As the son of a police officer myself, I cannot describe the feeling I felt when I awoke to today's news," McPherson, the founder of Do Something World, said in a statement Friday.
The victim of Thursday night's shooting was identified as Jonathan "JD" DeGuzman, 43, a 16-year department veteran and father of two, according to CNN, which also reported that the other officer, identified as Wade Irwin, 32, a nine-year veteran, was in serious condition but is expected to survive.
"Our city's heart is broken," McPherson said. "The Bible tells us to 'mourn with those who mourn and to weep with those who weep.' We especially mourn with the wife and two children of our city's fallen police officer. We pray for the recovery of his partner. We refuse to let hatred and violence divide our city. We stand together."
The Rock Church said its police, fire chaplains and grief-support ministries will be available to those who have been especially affected by the shooting. "Members of the San Diego community at large are invited to attend any of the church's services this weekend which will include a dedicated time of prayer for the city," the church added.
One suspect has been arrested and an extensive hunt is on for other suspects, police said Friday.
The deceased and the surviving officer were members of the department's gang suppression unit. They were shot during a traffic stop.
Earlier this month, eight officers were shot dead in ambushes in Dallas, Texas, and Baton Rouge, Louisiana, following shooting deaths of African Americans.
"The violence in our nation is spiraling out of control, and we need answers; because it's in these times of extreme tragedy the worst and best in people comes out," McPherson wrote in an op-ed for The Christian Post earlier. "We live in a culture where individual desires are pursued at the expense of everyone else's desires. Each of us has placed himself at the center of his universe."
He added, "I'm an African-American from Long Island, N.Y. My dad was a cop, and my son is a cop, so I have a law enforcement family background. I have personally experienced both sides of the issue, and I can tell you that, as a starting point, proving your side right won't solve the problem."
McPherson called on the people of San Diego and elsewhere in the country to "love somebody different than you."