Pastor Persecuted for Calling Islam 'Satanic' Faces Trial in December for Islamophobia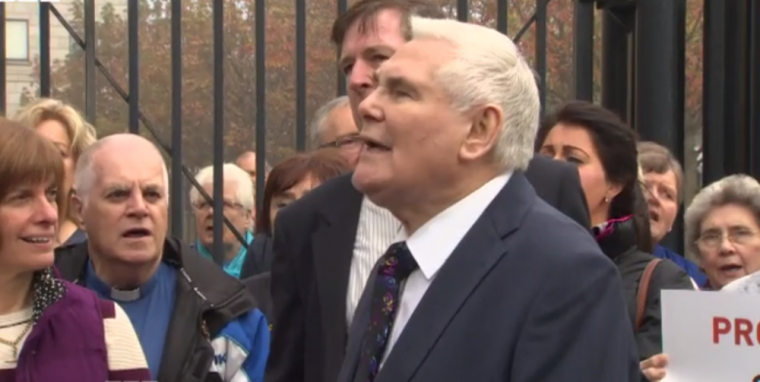 British Pastor James McConnell will face a three-day trial in December for broadcasting a sermon over the Internet using a public electronics communications network where he called Islam "satanic" and "heathen."
The charges, which also include allegedly sending a grossly offensive message using a public electronics communications network, stem from a sermon he gave at a Belfast, Northern Ireland, church in May 2014.
McConnell's trial date was set Thursday for Dec. 14 at the Belfast Magistrates Court. At least 78 people showed up to support the pastor, who believes he's standing up for his freedom of speech.
"As far as I'm concerned the Muslim issue is over," said McConnell to supporters outside the church on Thursday, according to the BBC. "The issue is the freedom of speech; the freedom of conscience; the freedom of worship and the freedom of preaching the Gospel and saying what is in your heart."
"I hope I get my Christmas dinner," added McConnell. "I will be there on December 14, 15 and 16. I am not running away, definitely not. I am going to stand for my Lord."
McConnell, 78, told the Belfast Telegraph back in June that he is prepared to go to jail to protect his freedoms and has justified his comments by clarifying the context in which they were spoken.
"I have qualified my comments by those who use their religion as justification for violence. As a preacher of God, it is this interpretation of the doctrine of Islam which I am condemning," he said.
Northern Ireland Director of the Evangelical Alliance Peter Lynas was alarmed by the charges brought against McConnell.
"I don't agree with all that Pastor McConnell said, but I am deeply concerned about this prosecution for allegedly sending a message that is grossly offensive," he said. "Many churches will be wary of what they place on the Internet until this case is heard and the law is clarified. This prosecution seems to stretch the Communications Act well beyond what parliament intended."
Northern Ireland Legislative Assembly member Nelson McCausland wrote an op-ed for The Belfast Telegraph in which he defended McConnell while calling out authorities for not prosecuting atheist professor Richard Dawkins for stating that it would be "immoral" not to abort a Down's syndrome child.
McCausland also compared the language used by McConnell to Jesus Christ's tone in the Bible.
"Even more important and significant is the fact that Jesus Christ Himself used such language during his Earthly ministry. He denounced false teachers and false teaching in what many today would regard as very strong language and, in John 8:44, 45, he said to some of his hearers: 'Ye are of your father the devil.' Yet He loved those to whom He referred and He loved them so much that He died for them," wrote McCausland.
McCausland suggested that the action being taken against McConnell could be part of a bigger conspiracy to "drive Christians off the Internet."
"It is encouraging that so many people have expressed their concern about these cases, even people of other faiths and no faith. They simply believe in such freedoms as freedom of speech, freedom to preach and freedom to manifest a religious belief," McCausland said.
"Freedom of speech, including the freedom to preach the Christian Gospel, is a fundamental freedom, but it seems that this and other rights are under attack when they are exercised by Christians," he added.
Meanwhile, supporters of radical Islam groups such as the Islamic State are freely allowed to walk around London displaying IS flags.
Back in July, London Mayor Boris Johnson told LBC that Islamic radicals can wave around IS flags no matter how alarming it might be to the public because Britain is a "free country," the Telegraph reported.
Johnson's comments were stated "just days after police officers allowed a man and a little girl to fly an ISIL flag outside Parliament."