Pastor Robert Jeffress Condemns NPR Host Peter Sagal for Mocking Jesus; NPR's CEO Says He 'Regrets' Joke Didn't Succeed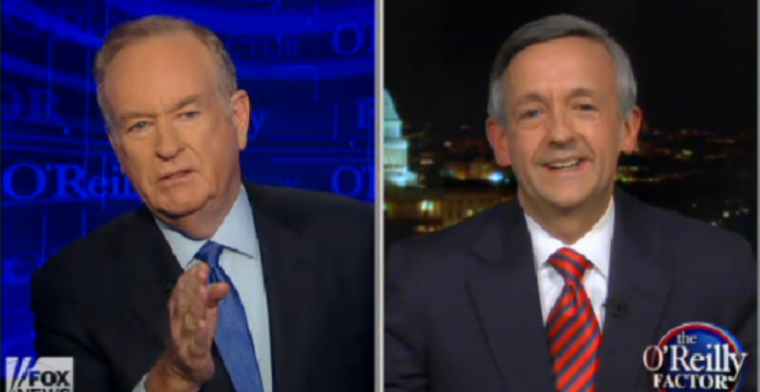 Robert Jeffress, senior pastor of First Baptist Church in Dallas, says a joke broadcast last weekend on the NPR show "Wait Wait … Don't Tell Me!" mocking Jesus Christ was "blasphemous," and if Muhammad had been ridiculed, the host would've been fired.
Peter Sagal, host of NPR's weekend program "Wait Wait … Don't Tell Me!" made a joke about a Christmas ad campaign launched by the Diocese of Brooklyn that shows a woman taking a selfie with Jesus Christ standing in the background. The print ads are part of an effort to reach out to millennials during the Advent season.
During the program that aired Saturday and Sunday, Sagal said:
You can take a selfie with Jesus. The Catholic Church preaches that Jesus is always with us. In fact, He's right behind you.
So this new app, Catholic Diocese of Brooklyn, shows a woman sitting by herself. She's holding out a phone to take a selfie like the kids do, but in the picture you see this woman and a bearded beatific man standing behind her. It's not the same rando creepo who got into the church, it's the son of God.
This raises all sorts of questions for the woman. For starters, why didn't Jesus just offer to take the picture Himself? His hands were occupied.

Fox News host Bill O'Reilly said on his opinion program "The O'Reilly Factor" Tuesday night that when he asked NPR President and CEO Jarl Mohn to define what Sagal meant when he said "Jesus' hands were occupied," Mohn replied that the show's goal is to poke fun at the news and make people laugh, and he "regrets that we didn't succeed in this case."
In an interview with O'Reilly, Jeffress said he wasn't going to "speculate what was going through [Sagal's] sick mind," but did want to comment on the hypocrisy of the secular media.
"What I do want to point out is that this illustrates the hypocrisy, the double standard of the secular media when it comes to Christianity. I can guarantee you one thing — that if this host had been ridiculing Muhammad or Islam, he would've been out overnight. When it comes to Christianity, it's open season," Jeffress asserted.
"I think the content is something that, at the very least, is dirty and possibly could be blasphemous," he added.
Jeffress, who was in Washington, D.C. Tuesday to lead the opening prayer for Congress, said that since he was at the Capitol he wanted to find out how much money is taken from taxpayers to fund NPR every year.
"It turns out, we are subsidizing them $40 million a year to support this kind of junk — that is something people ought to get mad as hell about," he exclaimed.
O'Reilly added that he hope's Sagal's comment about "Jesus' hands being occupied" wasn't salacious, but if it was, he believes Sagal should be fired.
Jeffress countered that whether Sagal's joke was about Jesus Christ being nailed to the cross or something salacious doesn't matter, because both are offensive; but mocking Him for being crucified is "even worse."
"If it was talking about having His hands on the cross it's even worse," Jeffress asserted. "NPR, at the very least, is ridiculing Christianity."