Pastor Shot Twice Outside His Connecticut Church as He Put Up Flags for Memorial Day
Pastor Shot Twice Outside His Connecticut Church as He Put Up Flags for Memorial Day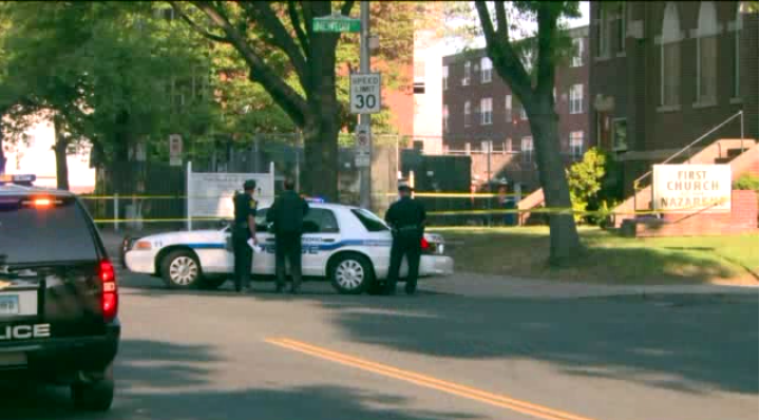 A Connecticut pastor was shot twice outside his church Sunday morning while he was putting out flags in honor of Memorial Day.
Rev. Augustus Sealy, 54, was shot outside the First Church of the Nazarene and was rushed to St. Francis Hospital following the attack. Police responded to the shooting after receiving multiple 911 calls and discovered that Sealy had been shot twice: once in the right leg and once in the left shoulder.
Sealy was planting small flags in the church's lawn when the shooting occurred.
A witness heard five gunshots after a black car traveling west on the church's block slowed down near First Church of the Nazarene. Police recovered seven shell casings from the scene of the crime.
The wife of the pastor, Sharon Sealy, told the Hartford Courant that news of the shooting was "devastating" and said she waited several hours in the hospital until her husband came out of surgery.
Sealy's femur was shattered by the bullets and doctors put a metal rod in his leg, according to his wife, who added that even though he's in a lot of pain, he's expected to fully recover.
"He hasn't lost any hope," Sealy's wife told NBC Connecticut. "You know, this is something that was really terrible and shouldn't have happened and we've already prayed for that person who actually committed the crime."
Rev. Eustace McDonald of Brooklyn, New York, preached at First Church of the Nazarene's 11 a.m. service which took place a little over four hours after Sealy was shot. At least 200 congregants were present.
"They were puzzled," said McDonald. "They were trying to make sense of this."
McDonald preached from the book of Samuel, discussing King David and his soldiers not losing heart after their town was burned down by their enemy.
"Misfortune in life comes to us all," he said, telling the congregation that what matters most is their response. "You have to go to a place of hope."
McDonald told local media that the congregation left the service "strangely rejoicing."
A second shooting, however, occurred shortly after Sealy's. Robert Jones, 27, was shot multiple times and is listed in serious but stable condition at St. Francis Hospital and Medical Center.
Police are investigating to see if the shootings are related, but there's no evidence that supports the theory at this time.
Rev. Henry Brown, a local pastor who has been holding vigils against gun violence in Hartford for 15 years, visited First Church of the Nazarene after the shooting and expressed his disgust over the incident.
"I am tired of people being shot," he said. "The devil is no going to win here."