Pastor, Wife, Daughter Sentenced After Dispute Sparked by Affair With Sunday School Teacher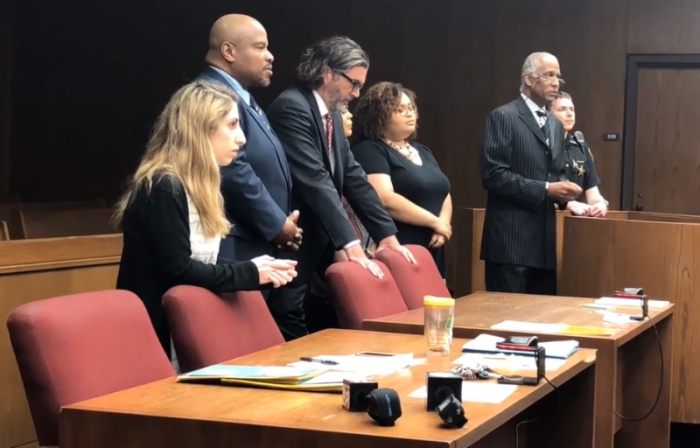 An Ohio pastor, his wife and daughter who were initially accused of robbing a Sunday school teacher and then fleeing their church minutes before the start of a worship service in February, were all sentenced Monday as it was revealed that the incident was triggered by an affair.
Pastor Anthony Morris, 49, of St. Paul's AME Zion Church in Toledo, was sentenced for assault; his wife, Zelda Morris, 46, was sentenced for criminal damaging/endangering, and their daughter, Kamali Morris, 19, was sentenced for disorderly conduct, according to The Blade.
"I'm just sorry for my involvement, but the truth is out there," Kamali Morris said, according to WTOL 11. "It came to surface, and I just thank God for that. That's all I have to say."
When the case was first reported in February, the Sunday school teacher, Nickema Turner, 39, of Maumee, who did not appear in court on Monday, reported the incident as a robbery during which the pastor's daughter grabbed her by the hair as she taught Sunday school at the church. The pastor allegedly pushed Turner to the ground as his wife punched her. Zelda Morris was also accused of dumping items from Turner's purse and taking them.
When Turner attempted to recover her belongings, Pastor Morris, with whom she'd had an affair, allegedly pulled out a gun, pointed it at her and threatened to kill her.
On Monday, Toledo Municipal Court Judge Amy Berling sentenced the pastor to one year of probation and ordered him to have no contact with Turner, The Blade said. His wife and daughter were each sentenced to six-week alternative programs.
Ronnie Wingate, a lawyer for both Zelda Morris and her daughter, revealed in a new narrative Monday that days before the church incident his client began receiving taunting text messages about her husband's affair.
One of the first messages stated: "Your husband is having an affair with a member of the church." The pastor's wife was further called "stupid" for being in the dark about her husband's infidelity.
The pastor's attorney, Neil McElroy, told the court that Zelda Morris confronted her husband, and he "confessed and discussed the matter with his wife."
On Feb. 18, the lawyers revealed, Zelda Morris and her daughter went to the basement of the church where Turner was teaching and a confrontation erupted.
"An argument ensued and the alleged victim became aggressive. At this point Ms. Kamali Morris stepped in to defend and prevent her mother from being assaulted by this complainant. A fight ensued," Wingate said.
Members of the congregation rushed to the basement to break up the fight between the women. Wingate said once the fight ended, the pastor and his family tried to leave, but as they were walking to the door, Turner allegedly grabbed a metal instrument from the church's kitchen and attacked them.
"Mr. Morris, who has a concealed-carry permit for protection of his own family, protection of his parishioners, had his firearm with him that day," McElroy explained. "When the complainant came at them with all he knew was something from the kitchen that was metallic, he did in fact pull his weapon. He acknowledged that."
McElroy said the gun was not loaded and no shots were fired. Turner backed down but she later filed a police report which resulted in the initial felony charges against the pastor and his family.
The pastor told the judge that he and his wife will be staying together. Elders at his church have also agreed to allow him to seek employment elsewhere.