Pastor's Daughter and World's Most Powerful Woman, Angela Merkel, Romps Her Way to a Third Term as Germany's Chancellor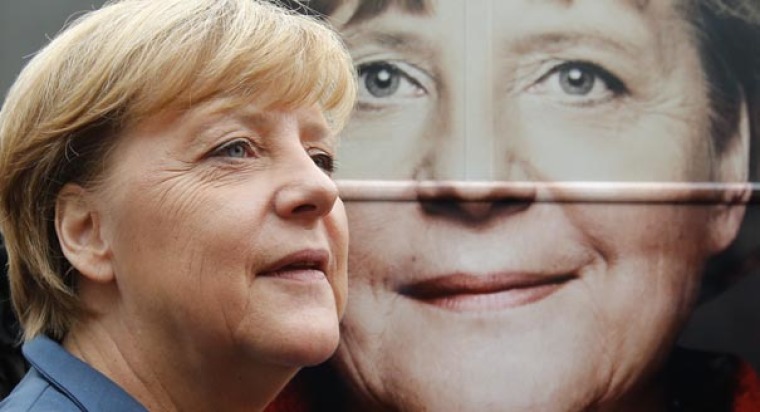 Angela Merkel, a pastor's daughter, the world's most powerful woman, and second most powerful person behind President Barack Obama, romped her way to a resounding victory on Sunday to become Germany's chancellor for a third consecutive term with her center-right Christian Democratic Union Party in tow.
Merkel's CDU party fell just five seats short of securing an absolute majority after secured 41.5 percent of the votes in Sunday's election, which she described as "super," according to an NBC News report.
"This is a super result," Merkel said to cheering supporters after the win noted as the best since German reunification in 1990. "Together, we will do all we can to make the next four years successful ones for Germany."
The 59-year-old Merkel, who Forbes ranked as the world's most powerful woman and second most powerful person in the world, reportedly danced to a popular German song "Die Toten Hosen," translated "Days like these."
Sunday's voting results showed Merkel winning well ahead of her rival Peer Steinbrueck, whose center-left Social Democrats got 25.7 percent of the votes. She told reporters on Monday that there was "no need for change" in discussing her conservative values.
Merkel became just the third post-war chancellor to win a third term, according to the AFP. The first two were fellow conservatives Konrad Adenauer and Helmut Kohl, known as the father of reunification.
Germany is Europe's top economy and Merkel has been praised for steering the country relatively unscathed by the Eurozone crisis.
"Merkel perfectly embodies the sensibilities of the Germans in the early 21st century," the publisher of the influential weekly Die Zeit, Josef Joffe, wrote in August, according to AFP.
"You don't have to expect any threatening new tacks from her, no tough decisions for or against. She is perfectly predictable in her flexibility and the risk-averse electorate loves it. Merkel is us, and we are Merkel."
Her critics in other parts of Europe like Athens, Lisbon and Madrid have blamed her for painful budget cuts, which have stunted economic growth in those areas.
Merkel became the leader of the CDU in 2000 after telling Kohl to quit as party chairman due to a slush fund scandal. She became Germany's first female and youngest chancellor in 2005 and was the only woman to lead a major European power since Margaret Thatcher of Britain.