Pastor's son Kirk Cousins honored for leadership ahead of Super Bowl: 'God owns my football journey'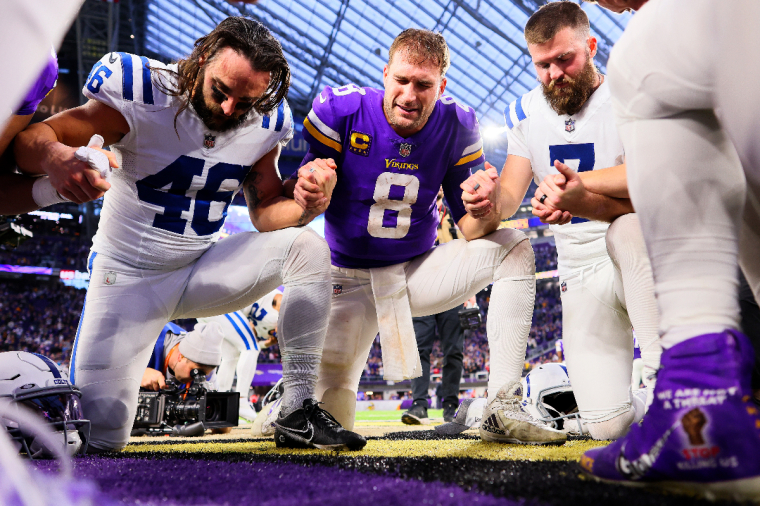 On the eve of Super Bowl LVII Saturday, Minnesota Vikings quarterback Kirk Cousins was honored for his exemplary character and leadership on and off the field as he received the Bart Starr Award at the 36th annual Super Bowl Breakfast — an NFL-sanctioned event hosted by the Christian nonprofit Athletes in Action. 
Known on and off the field for his openly devout Christian faith, the 34-year-old father of two and pastor's son says he feels blessed by God to be where he is in his career. 
"Time and again, God has proven Himself faithful," Cousins, who was drafted by Washington in the fourth round of the 2012 NFL Draft, said in a recent interview with Athletes in Action. 
The Bart Starr Award is organized and given out by the NFL in partnership with Athletes In Action, a ministry of Cru (formerly Campus Crusade for Christ) that equips athletes to use their platforms to be a part of God's mission to "make disciples of all nations."  
The honor awards active NFL players who demonstrate outstanding character, integrity and leadership in their football careers and personal lives. 
The Super Bowl breakfast event has taken place every year since 1988 in the Super Bowl host city. The event gathers crowds of fans to hear from some of the sport's biggest names — many of which speak or share testimonies at the event.   
Although the Bart Starr Award is not exclusively awarded to Christians, recipients in years past have been Christian NFL players who have conducted themselves as family men, fathers, husbands and leaders on their teams. Last year's Bart Starr Award recipient was New Orleans Saints linebacker Damario Davis. 
Cousins shared that he has been on a long "roller coaster" journey both athletically and spiritually throughout his career, adding that God has taken him through every step of the ride. 
"Clearly, God knows what He's doing. But, many times, it doesn't agree with my expectations or what I would have liked to have happened," Cousins said.
"That's where it becomes all about trusting Him and obeying Him. It's not a complicated formula. But, it can be a difficult one to truly put into practice."
Before he was drafted to the NFL, Cousins played college football on scholarship at Michigan State University, where he was the Spartans' starter from 2009 to 2011. 
Looking back on where he started, Cousins believes that God has allowed him to become the professional quarterback he is today because He "knew it was a profession that would keep me on my knees and keep me close to Him."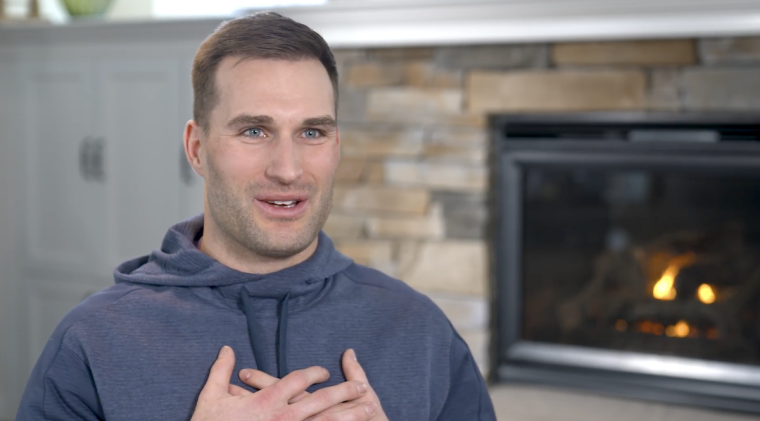 "I really do believe that's why I play professional football. Ultimately, God owns my football journey, not me. Which, first of all, takes a lot of pressure off of me as I go through this journey," Cousins said. 
"Second of all, it requires a great deal of faith to say: 'this is not my journey to control. It's my job to trust and obey and to give up control to Him.' And it will be His call on how long I play and where this career goes. And I remind myself of that on a daily basis." 
Cousins, whose father, Don, is a former associate pastor at Willow Creek Community Church in Illinois, said the Gospel was shared with him for the first time in his life at around age 7. 
He remembers reciting a prayer in which he declared that he would have a relationship with Jesus for the rest of his life. 
"At that age, there's only so much you can grasp of what that means and the commitment it will take. I remember in high school, again, being faced with that idea: 'what does it really mean to follow Jesus?'" Cousins recalled.
"The definition of a disciple was shared with me, which is 'to be a fully devoted follower of Jesus.' It was explained to me that fully devoted means that you 'put aside everything else. When culture goes this way and Jesus goes this way, you go [Jesus'] way. Even if it costs you something, you follow Him.'" 
When Cousins reached 16, he said he came to a point where he decided that "even if it cost me something, … I'm going to follow [Jesus]." 
"That was a big moment in my life, to put that stake in the ground. Proverbs 3:5-6 became a life verse for me, which says to 'trust the Lord with all your heart, to not lean on your understanding, but in all your ways to acknowledge Him, and He will direct your steps,'" Cousins shared. 
Cousins said his faith was tested after he played his first varsity football game in his junior year of high school. During the game, he unexpectedly broke his ankle.
"I remember saying to my dad, 'I'm going to miss most of my junior season, and this means I won't get to play major college football. And so my dreams of where football would go somewhere is over,'" Cousins recounted. 
"My dad said, 'Kirk, you don't know that.' That's when he shared Proverbs 3:5-6 with me. It was in that moment that I had to begin to really trust Him and to say, 'God, I'm going to trust you with this football journey, and that may mean that I don't have a major college football career. If I don't, I still have to trust You. It doesn't change who You are.'"
By "God's grace," Cousins said he did end up playing college football for a major program. 
"I remember signing that scholarship and looking back to the moment I broke that ankle and realizing that the God we serve is so much bigger than a broken ankle. And that was only the beginning. God was taking me on a journey." 
One month ago, in a video posted to the Athletes in Action YouTube channel, Cousins said it was an "absolute honor" to receive the 36th Bart Starr Award. 
"Obviously, team awards is what we play this game for. But, of the individual awards I've ever been able to win, this is far and away the most special to me. So, thank you. It's a tremendous honor," he said in the video. 
In an interview with The Christian Post, Terry Bortz, the executive director of the Super Bowl Breakfast, said Cousins is a "solid Christian."
"I think it is becoming more common for NFL athletes to share their faith because they have a platform like no one else. … Professional athletes are literally worshiped by fans in stadiums on Sundays," Bortz said. 
"People idolize these athletes that they see on TV and they may not listen to anybody else. But, when they see the hero that they see on TV every week talking about their faith and encouraging them to explore their relationship with God, it makes an impact. That is really amazing." 
Bortz believes one of the reasons Cousins was considered for the award is because of "his work towards his foundation and all the good work that he does." 
Cousins and his wife, Julie, who married in 2014 and have two boys, Cooper and Turner, formed the Julie and Kirk Cousins Foundation in 2019.
The nonprofit supports several charities, including Bethany Christian Services. Working in partnership with the global nonprofit, Cousins' Foundation supports provision of pregnancy counseling, adoption, foster care and strengthening families through family preservation. 
Both charities have also provided services to refugees around the world fleeing violence.
"When I think about getting to the root of a problem, getting to the reason of the dysfunction, I say: 'where's the dad? Where's the male role model,'" Cousins said in a video on his foundation's website detailing the reasons he works with Bethany Christian Services to help children in need of homes. 
"We need men to step up and to adopt and foster these young people. I'm not promising you it's going to be easy. I'm not saying everything is going to be roses. But, you will make a difference not only in that child's life; but for eternity."
One of the charity's "generosity partners" is the nondenominational, three-campus Discovery Church in Orlando, Florida, which is led by Don Cousins. Other partners are International Justice Mission, Holland Christian Schools in Michigan, Compassionate Heart Ministries, and Boys and Girls Clubs of America.