Pat Robertson Suffers Stroke, Recovering Thanks to 'Miracle,' Neurologist Reveals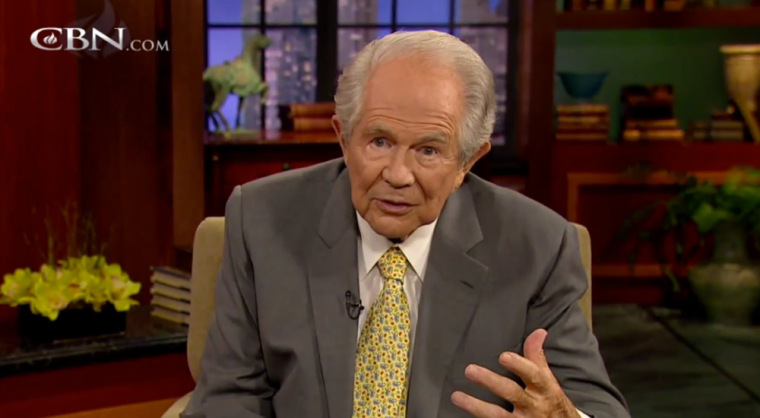 Christian Broadcasting Network chairman and founder Pat Robertson is expected to make a full recovery after receiving emergency treatment following an embolic stroke on Friday. A consulting neurologist described his quick recovery as a "miracle."
CBN News reported that Robertson was rushed to the nearest stroke center in Virginia Beach after a family member recognized the onset of the symptoms. A neurologist/stroke specialist ordered a CT scan to find the location of the clot.
The 87-year-old Robertson revived after being given the clot-busting drug tPA 80 minutes following the onset of the stroke symptoms. Within minutes, he was awake and responsive, able to move his limbs.
The consulting neurologist, who wasn't named, apparently declared the rapid recovery to be a "tPA miracle."
Robertson is expected to leave the hospital on Monday.
"We encourage everyone to be aware of the symptoms of stroke and also be aware of the location of the nearest stroke center," said the former Southern Baptist minister's son, Gordon Robertson, who is also CEO of CBN.
"Stroke kills over 140,000 people in the USA every year and is the leading cause of serious long-term disability," he added.
"Awareness of the onset of symptoms and then rapid treatment is the key to recovery. We cannot express our thanks enough to the medical team that treated my father."
Christian leaders, such as Billy Graham Evangelistic Association President and CEO Franklin Graham, sent messages of support for Robertson.
"Pray for a full recovery for Pat Robertson @CBNNews," Graham wrote Sunday on Twitter.
In August 2017 Robertson had another major health scare when the host of "The 700 Club" was hospitalized after falling while horseback riding.
"Horseback riding is one of Robertson's greatest passions and at the age of 87 he still enjoys riding on a regular basis," CBN said at the time, reporting that Robertson would make a full recovery.
The chancellor and CEO of Regent University has remained highly active in Christian and political commentary despite his advancing age, and in July interviewed U.S. President Donald Trump, asking him about the investigations that Russian President Vladimir Putin helped him win the election.
"Why would he want me? Because from day one I wanted a strong military, he doesn't want to see that, and from day one, I want fracking and everything else to get energy prices low," Trump said in response at the time.
"We're going to be exporting energy. [Putin] doesn't want that. He would like Hillary [Clinton]. Where she wants to have windmills. He would much rather have that because energy prices will go up and Russia, as you know, relies very much on energy."
The conservative media mogul has argued that there is a "spiritual battle" going on in America against Trump.
"He's God's man for this job and he's taking bold steps and steps that please most evangelicals," Robertson said in May.