Pence on Kavanaugh Sexual Misconduct Accusation: Democrats Have Done 'Disservice' to Americans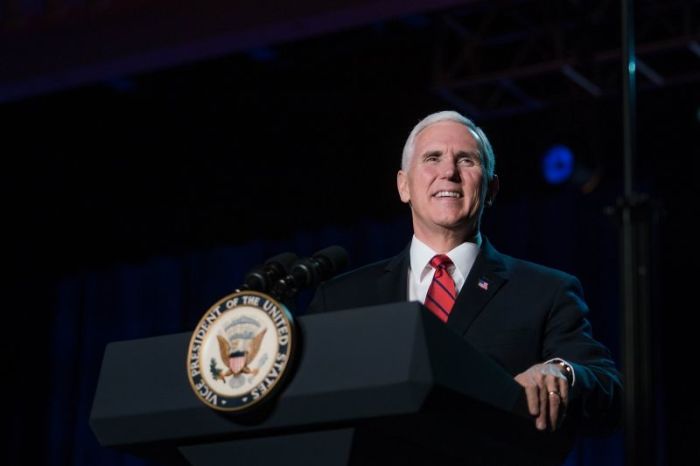 Vice President Mike Pence offered his thoughts Wednesday evening on the sexual assault allegation against Supreme Court nominee Judge Brett Kavanaugh.
The 59-year-old former Indiana governor spoke with Family Research Council President Tony Perkins on his "Washington Watch" radio show. Among other things, the two discussed the accusation made by California professor Christine Blasey Ford that Kavanaugh tried to sexually assault her when they were teens in high school.
The claim, reported on by The Washington Post on Sunday, has the potential to slow down the confirmation process. While Ford is calling for an FBI investigation, President Donald Trump has said that he is OK with a little "delay" to allow the Senate Judiciary Committee to hold a hearing on the matter.
When asked about the Kavanaugh situation, the vice president reiterated Trump's thoughts that it's "important that we give it time, that we hear from both sides, and we have every confidence that [Judiciary Committee Chair] Sen. [Chuck] Grassley and the Republicans in the Senate will handle these allegations properly."
"I know Sen. Grassley has laid forward a range of options from an open session hearing to a closed session to private staff interviews, and they've already — the staff and the judiciary committee has already begun following up on leads — following Dr. Ford's allegations," Pence said. "And that's all very important."
Pence, a former senator, also voiced displeasure with California Sen. Dianne Feinstein, the ranking Democrat on the Judiciary Committee. Feinstein received Ford's allegations six weeks ago but didn't bring them to light for questioning during Kavanaugh's confirmation hearings and previous interviews with senators.
Feinstein has received heat from Republicans who argue that she chose until the most political advantageous moment to bring them to light.
"And again, we're confident the Senate will handle it. But that being said, what Senator Dianne Feinstein has done here — what Democrats in the Senate have done here — is very unfair to Judge Brett Kavanaugh and it's a great disservice to the process," Pence said.
"The fact that Senator Feinstein apparently had this letter more than six weeks ago, never raised the issue in her interview with Judge Brett Kavanaugh, never brought the issue to the attention of other members of the judiciary committee, it's a great disservice to the process, and to the American people, and of course to Judge Brett Kavanaugh and his family."
Pence concluded by stating that Feinstein's actions follow the "conduct by many Democrats on the Senate Judiciary Committee who I think virtually embarrassed themselves during the public hearings that were on display just a few short days ago."
"So that being said, I would just say the president and I believe that Judge Brett Kavanaugh will make an outstanding addition to the Supreme Court of the United States," Pence said. "We're very confident that the Senate will handle this all in a proper and appropriate way."
Conservative evangelical supporters of Trump and his administration have also criticized the timing of Ford's accusation being made public.
"This is a disgraceful, partisan debasement of the U.S. Senate and the confirmation process, and the fact that it was held until the eleventh hour is suspicious at best and nefarious at worst," Ralph Reed, chair of the evangelical grassroots organization Faith & Freedom Coalition, wrote on Facebook.
Perkins also voiced his concern in a blogpost Tuesday.
"Perhaps it's because [Democrats] are more concerned about how to use the allegation than whether or not the allegation is true," Perkins wrote. "Welcome to Washington, D.C. where such political theater is regularly on display."
Russell Moore, president of the Southern Baptist Convention's Ethics & Religious Liberty Commission, who has not been afraid to voice his displeasure with Trump, had signed a statement supporting Kavanaugh's nomination.
Moore, however, told CNN that if Ford's allegation is true, it should be "disqualifying" for Kavanaugh's Supreme Court consideration. He subsequently stressed that people need to hear from both sides before they jump to conclusions.
Although Kavanaugh has agreed to testify on this issue during a special Senate hearing on Monday, Ford has refused to testify. Her lawyers wrote Grassley on Tuesday night to state that it would be premature to hold a hearing on this matter until an FBI investigation is held.
The FBI reportedly won't be investigating the matter because no federal crime has been committed.
"You have stated repeatedly that Dr. Ford wants to tell her story," Grassley wrote to Ford's lawyers, according to Fox News. "I sincerely hope that Dr. Ford will accept my invitation to do so, either privately or publicly, on Monday. In the meantime, my staff would still welcome the opportunity to speak with Dr. Ford at a time and place convenient to her."
Republican Sen. Susan Collins, R-Maine, has also called on Ford to "reconsider" and testify on Monday.