Petition to Ban Controversial Christian Parenting Book From Amazon Nears 100,000 Signatures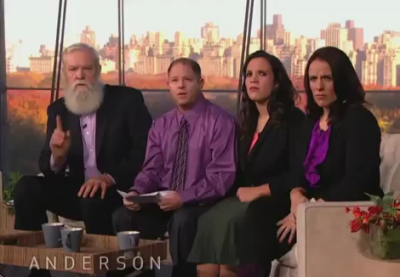 A petition to ask Amazon to stop selling a Christian parenting book has closed in on nearly 100,000 signatures.
As of press time, a Change.org petition asking the Internet giant to remove Michael and Debi Pearl's To Train Up a Child had 98,900 signatories.
The book, which was released in 1994, has drawn criticism after being linked to the deaths of several children, whose parents claimed that they had been influenced by its teachings.
Most recently, last September, Carri and Larry Williams were convicted of manslaughter after their 13-year-old daughter Hana died. During their trial, the prosecution argued that the parents practiced abusive techniques for disciplining their children, including beating, starvation, being forced to use an outdoor toilet and sleeping outside. The attorneys also argued that Larry had beat his son and daughter using white piece of plastic, over one foot long, to discipline them and investigators claimed that the couple had adhered to the tactics of To Train Up a Child.
According to its Amazon description, the book "is not about discipline, nor problem children" but instead states that the bulk of it is directed on the "training of a child before the need to discipline arises."
The book also promises that its techniques are so effective that "you will have a renewed vision for your family, no more raised voices, no contention, no bad attitudes, fewer spankings, a cheerful atmosphere in the home and total obedience from your children."
In 2012, Pearl defended his book to The Christian Post and said it was a warning [to] parents to not spank too hard."
"Spanking is only an option that we have, that we seldom use, but having that option gives authority to our words," he added. "Having that option means that if we have a rebellious child, or if we have a child that's otherwise compliant but one day has a rebellious streak that child, knowing that we have an option to spank, gives authority to our words, and helps us to communicate our will to the child and to receive compliance."
Amie Salter, who organized the petition, noted on the site that while the book "does not directly kill children, it takes the accountability away, offering reassurance that hitting children into obedience is a valid form of parenting."
She also pointed to a YouTube video showing old footage of the Pearls taking questions at a conference as evidence of its "terrible teachings."
At one point during the session, Michael Pearl whacks a rod against a cloth doll and says, "That's what you do to screamers around here."
He also instructs parents that if their child "screams too hard after the first five [lashings] and gets hysterical—wait. A little psychological terror of some kind is more effective than the pain."
Pearl also dismisses concerns that parents might hurt their children.
"Slapping him on the head, you're worried about that? Is that a question?" he asked.
Salter stated that although many individuals have defended Amazon's selling of the book and argued that "following the idea that this book doesn't kill children, parents do, I think we can all agree that the writers hold some responsibility."
In a blog post from 2011 on Patheos, a former user of To Train Up a Child called it "sadistic" and "a manual of progressive violence against children."
"The part about not causing injury is vague and open to interpretation, but the part about never backing down or shirking your parental duty to spank harder and harder is crystal clear. The Pearls' teachings will lead, inescapably, to extremely strong-willed kids being abused and sometimes murdered by fundamentalist parents who are determined to "break" those children," she said.