Phil Robertson Says New Show Will Feature Politically Incorrect Common Sense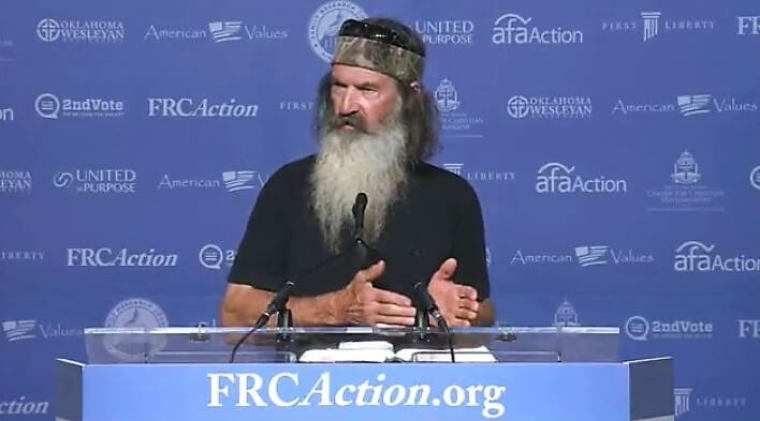 The "Duck Dynasty" era has ended, but Phil Robertson is gearing up to star in his own show where he will proudly reject "political correctness."
After five years, A&E's "Duck Dynasty" aired its last episode in March. Robertson, the hunter and businessman starred on the show with his family, which runs the Duck Commander duck hunting merchandise that he founded, has a new series in the works.
The show is called "In the Woods With Phil," and will air on a $99 per year digital service called CRTV. Robertson,the 71-year-old West Monroe, Louisiana native, opened up to The Hollywood Reporter about being given a platform where he can express his political and religious views.
"If liberals and Hollywood elites are going to pressure a network and advertisers to abandon me for saying something that is common sense as 'You need to be a boy to be a Boy Scout,' then I am going to go where they can't silence me," he told THR. "I have never been one to shut up."
In 2013, Robertson was suspended from appearing on A&E when he spoke to GQ about homosexuality being a sin. After GQ asked him what he felt was sinful, Robertson named homosexuality and bestiality.
"Start with homosexual behavior and just morph out from there. Bestiality, sleeping around with this woman and that woman and that woman and those men," he said before paraphrasing Corinthians. "Don't be deceived. Neither the adulterers, the idolaters, the male prostitutes, the homosexual offenders, the greedy, the drunkards, the slanderers, the swindlers — they won't inherit the kingdom of God. Don't deceive yourself. It's not right."
Robertson also made some salacious remarks about gay sex acts. 
According to Robertson, the media is ashamed of what he calls American values. He used gender as an example.
"Most media are ashamed of America, its values and just has an aversion to plain old common sense," he told THR. "What did I hear today? That a girl can now be a Boy Scout? The name is 'Boy Scout.' How hard is that to understand?"
Gaston Mooney, senior VP of CRTV, spoke about the digital network being proud to have Robertson on board.
"Our culture and values are being overrun and progressives are hell-bent on purging traditional values from media," Mooney said, according to THR. "Phil is a Christian and CRTV is proud to have him proclaim from our platform."
For more information about CRTV, please click here.