Phil Wickham Cancels Catalyst West Performance, Concerts Because of Vocal Cord Irregularity
IRVINE, Calif., – Recording artist and worship leader Phil Wickham had to cancel his performance at Catalyst West and additional concerts it was announced at the event Thursday evening because of a vocal cord irregularity most likely caused from overuse.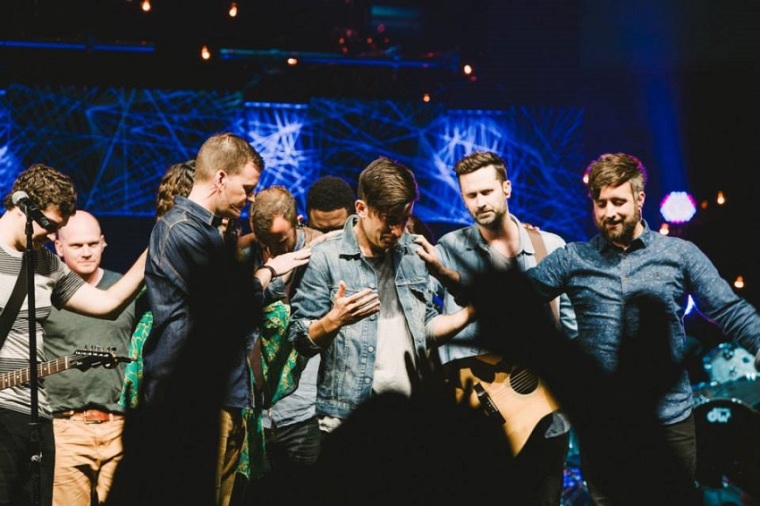 In a letter from Wickham read to those attending, he wrote, "Thankfully, they believe we caught this early on enough that it can most likely be reversed without surgery. The only way to reverse it is total silence. No singing. No talking. The silence could be two weeks, two months, or longer."
Wickham did appear on stage after the letter was read for a time of prayer with all inside the Mariners Church worship center where the main sessions are being held.
In a blog posted on his website, he wrote, "I was supposed to lead worship tonight at an event called Catalyst. It's a conference for leaders about 3,500 strong in Southern California. Due to my voice I wasn't able to make it. They asked me to write a letter to share what's been happening to my voice and in my heart. Here it is…."
In the letter, Wickham, who currently sits atop the Christian AC chart with his first #1 single "This Is Amazing Grace," writes that his "heart was full at the thought of lifting up a song of worship with you all, and having to bow out has been very frustrating to say the least."
He explained, "While leading worship last weekend on a tour through New England, my vocal cords hit a wall. I felt a drastic change in my voice, and I knew something wasn't right. It was like a guitar with broken strings. I knew where the notes should be, but they just weren't there. We cancelled the following shows, and I had to wait several days until I could see a doctor and get some answers."
Wickham wrote that his reaction to the news was unexpected.
"I would have guessed fear, or frustration. Maybe even desperation. But it wasn't those things. I felt lost," he said in the letter. "I realized right then how closely I tied my own worth with my voice. My worth as a provider. My worth as a leader. My worth as a person. Though now it sounds a bit melodramatic, I sat silent alone in my hotel room that night wondering, 'What am I worth without a voice? Who am I without it?'"
Wickham went to a specialist Thursday morning and it was discovered that there is an "irregularity on my left vocal cord that was most likely caused from overuse."
He writes that he has been quiet since Saturday, and the last days have "pretty much been just a wild series of nods, shakes, and gestures. It's amazing how difficult it is to get the salt passed in your direction when you can't talk."
The conference taking place at Mariners Church is part of a series of national Catalyst events that have taken place over the years, designed to be immersive learning, worship and creative experiences where several prominent leaders will share their knowledge and challenge participants to become better leaders.
"Catalyst West is a movement of influencers and world changers who love Jesus, see things differently, and feel a burden for our generation," according to a statement on CatalystConference.com. "We seek to learn, worship and create together with a momentous energy passionately pursuing God."
The two-day event in Irvine features leaders including Francis Chan, Henry Cloud, Bob Goff, Bryan Lorritts, Christine Caine, and Kony 2012 filmmaker, Jason Russell.
For Wickham's complete letter, click here.