Planned Parenthood CEO Cecile Richards Promoted Adoption, but There's a Catch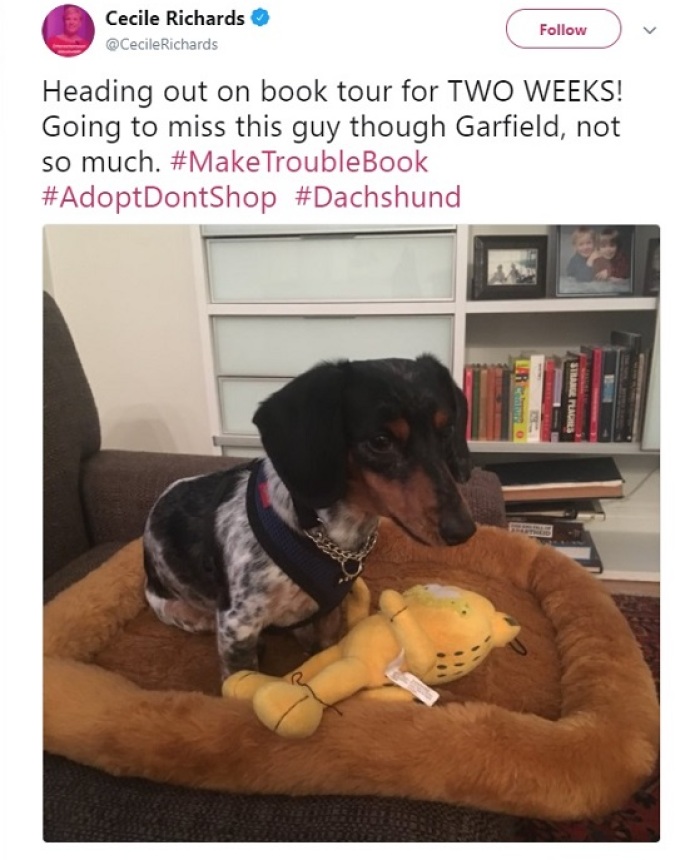 Retiring Planned Parenthood CEO Cecile Richards is catching backlash for posting on Twitter a photo promoting adoption of dogs while heading an organization that advocates abortion for humans.
Richards posted a photo of her pet Dachshund to Twitter on Tuesday morning with the message "Heading out on book tour for TWO WEEKS! Going to miss this guy though Garfield, not so much." She included the hashtag #AdoptDontShop.
Many of the comments below the post argued that it was hypocritical for Richards to promote adoption of dogs while serving as head of the nation's leading abortion provider.
Tony Perkins, president of the socially conservative group the Family Research Council, penned a column in response to the tweet stating that Richards "missing her dog — and more importantly, missing the point."
"Of course, the idea of rescuing dogs isn't a bad one, but it's certainly a stark contrast to what she's been advocating for babies the last 12 years," wrote Perkins.
"Maybe if children were fluffy with four legs, she'd understand the importance of saving them too! Instead, she talks about giving pets homes while her own business spends its days ripping unborn children out of theirs."
According to their most recently released annual report, during fiscal year 2016-2017 Planned Parenthood performed approximately 321,000 abortion procedures while doing fewer than 4,000 adoption referrals.
The social media criticism comes the same week that Richards' memoir, Make Trouble: Standing Up, Speaking Out, and Finding the Courage to Lead, was released.
"Cecile Richards has been an activist since she was taken to the principal's office in seventh grade for wearing an armband in protest of the Vietnam War," reads its description on Amazon.
"She shines a light on the people and lessons that have gotten her through good times and bad, and encourages readers to take risks, make mistakes, and make trouble along the way. Richards has dedicated her life to taking on injustice, and her memoir will inspire readers to hope and action."