Pope Francis Launches 'Bold' Synod to Review Controversial Catholic Teachings on Family, Marriage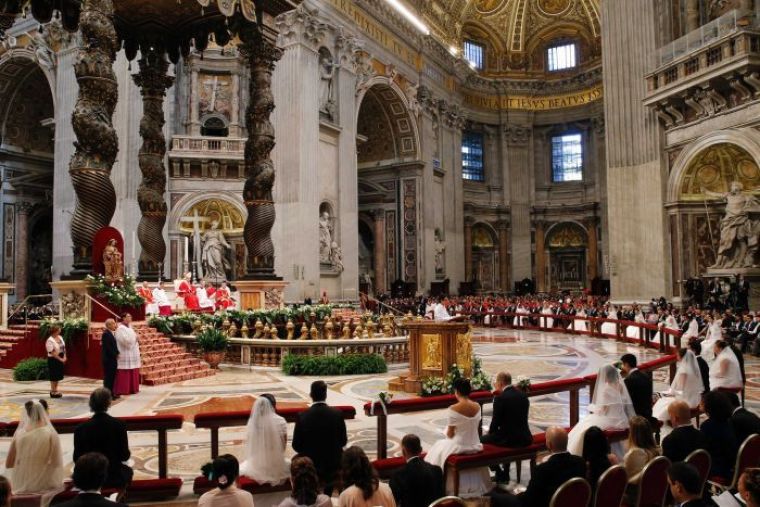 Pope Francis on Saturday launched a two-week meeting of bishops who have come to the Vatican from around the world to discuss some of the most controversial issues facing the Catholic Church, including its teaching on marriage and sexuality.
"Let us invoke openness to a sincere, open and fraternal exchange of views, that it might lead us to take pastoral responsibility for the questions that this changing time brings with it," the pontiff said in St. Peter's Square Saturday, the day before the Oct. 5-19 synod, where a range of "pastoral challenges of the family" will be discussed in preparation for a larger world synod in October 2015.
"Let them fill our heart, without ever losing peace, but with serene trust that in his time the Lord will not fail to lead us back to unity," Catholic News Service quoted him as saying. "Doesn't the history of the church perhaps tell us of so many analogous situations, that our fathers knew how to overcome with stubborn patience and creativity?"
The pontiff said this before tens of thousands of people at a prayer vigil held Saturday for the meeting of nearly 200 bishops.
Among the topics to be discussed is the eligibility of divorced and civilly remarried Catholics to receive Communion. As of now, they cannot be admitted to Communion without an annulment of their first, sacramental marriage, unless they abstain from sexual relations with their new partners.
"We must lend an ear to the rhythm of our time and perceive the odor of people today, that we might be imbued with their joys and hopes, their sadness and anxiety: at that point we will be able credibly to propose the good news on the family," Francis said at the vigil.
The 77-year-old pope has repeatedly spoken about the plight of family breakdown and the need for the Church to adapt to the reality. And in September, the pope married 20 couples, many with children out of wedlock.
"The wounds have to be treated with mercy. The Church is a mother, not a customs office, coldly checking who is within the rules," he has said, according to Agence France Presse.
"The family continues to be the unparalleled school of humanity, an indispensable contribution to a society of justice and solidarity," Francis said Saturday. "And the deeper its roots, the farther out we are able to go, without getting lost or feeling estranged in any land."
"It's the single most important event for Pope Francis," U.S. News & World Report quoted Rev. Michael Russo, who teaches political communication and religion at St. Mary's College of California, as saying. "It's Pope Francis' way to put a personal stamp on his take with regard to issues that face Christians and Catholics and people around the world."
"It's a bold way for Pope Francis to take up issues that have been contested since the last synod on the family in 1980," added Paul Elie, a senior fellow at Georgetown University's Berkley Center for Religion, Peace and World Affairs.